'LEGO Star Wars: The Force Awakens' Video Game Is Coming, Delivers Perfect Spoof Of First Teaser Trailer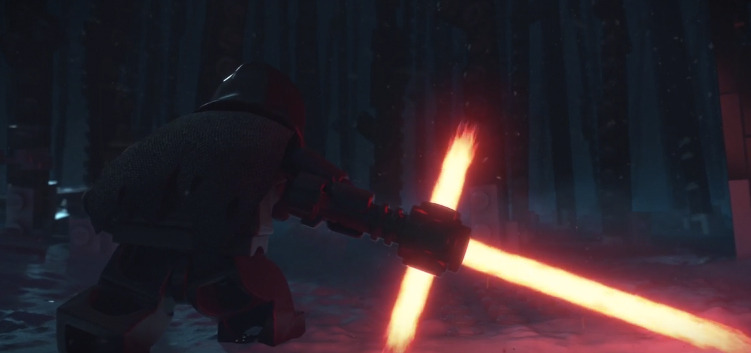 The LEGO Star Wars video games have been some of the most fun you can have on a gaming console for people of all ages. And now that we're entering a new era of Star Wars, it's time for The Force Awakens to get the LEGO video game treatment. Today, the release of LEGO Star Wars: The Force Awakens was announced by Warner Bros. Interactive Entertainment, TT Games, The LEGO Group and Lucasfilm, and they did so with a trailer that is a goofy, shot-for-shot remake of the original teaser trailer. Watch it below.
Here's the LEGO Star Wars The Force Awakens video game teaser trailer:
As you can see, each shot has been spiced up with a cutesy little joke, whether it's BB-8 plowing through a sandcastle, or Poe Dameron accidentally turning on the radio in his X-Wing to hear the Figrin D'an and the Modal Nodes playing their signature cantina tune.
In addition to letting you play out The Force Awakens in LEGO form, the video game is said to have "story content exploring the time between Return of the Jedi and The Force Awakens, providing additional insight about the new movie and its characters." Since this is a LEGO video game, I can't imagine there will be any groundbreaking information about the characters revealed here.
The game will be available on PlayStation 4, PlayStation 3, PlayStation Vita, Xbox One, Xbox 360, Wii U, and Nintendo 3DS with a deluxe edition also available for PlayStation 4 and Xbox One that comes with an exclusive LEGO Finn minifigure and a season pass for DLC. In addition, the PlayStation 3 and PlayStation 4 versions will get access to exclusive downloadable content, the Droid Character Pack and the Phantom Limb Level Pack.
LEGO Star Wars: The Force Awakens takes players deeper into the new film than any other game with all of the heroic characters from the movie, including Rey, Finn, Poe Dameron, Han Solo, Chewbacca, C-3PO, and BB-8, as well as Kylo Ren, General Hux and Captain Phasma, while also exploring iconic Star Wars locales, such as Jakku and Starkiller Base.
This action-packed adventure introduces new gameplay features, including the enhanced "Multi-Builds" system, where players can choose from multiple building options to advance the game. Gamers will be able to engage in intense new Blaster Battles for the first time, utilizing surrounding environments to drive back the First Order. Fans can also experience the thrill of high-speed flight gameplay through arena-based battles and dogfights in space, while utilizing a multitude of vehicles along the way, including the legendary Millennium Falcon.
LEGO Star Wars: The Force Awakens hits shelves on June 28, 2016.