Your Daily Dose Of DC: 'Batman V Superman' Images Tease Darkseid, New Wonder Woman Details Revealed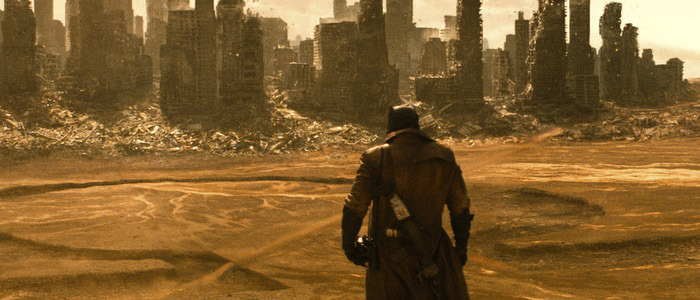 The release of Batman v Superman: Dawn of Justice is less than two months away and the marketing machine has officially entered overdrive. New posters, trailers, TV spots, magazine covers and all kinds of promotional what-nots are appearing on a daily basis, trying to convince you and your mother and that neighbor you never speak with to go see a movie where the two most famous superheroes of all time punch each other in face.
The latest salvo: a new batch of images from the film that tease a famous Justice League villain and some very interesting quotes concerning Gal Gadot's Wonder Woman.
The images come to us via Empire, who have placed the film on the cover of their new issue. Some of the images are familiar enough: Superman flying through wreckage, Batman aiming some kind of gadget in a rainstorm, and a close-up of the Batman v Superman's not-so-secret second villain, Doomsday.
However, there is one image that is very curious indeed. It features Batman standing on a cliff and overlooking a desert and the desolate remains of a city. Burnt into a ground is a massive omega symbol, which is closely associated with the powerful villain Darkseid. Since he's a common adversary of the Justice League, this image (taken from what must be a dream/nightmare/vision) seemingly confirms that Darkseid will be rearing his ugly head in Zack Snyder's upcoming superhero team-up, which will take place after the events of Batman v Superman.
Empire also has this quote from producer Charles Roven explaining how Ben Affleck's Batman is different from past cinematic incarnations:
"He's older [and] he's seen the worst of what man can do. He's been darkened by it, he's tougher, he's angrier, I guess [...] He's still lost those that are near and dear to him, and not necessarily from old age or disease."
But enough about Batman. Everyone talks about Batman. How about a little Wonder Woman news? The full magazine story (via Comic Book Movie) has a few very interesting snippets about this immortal Amazon warrior. It turns out that she is 5,000 years old and retired from the world-saving business when Batman v Superman begins. Says Gadot:
"Because she's seen it all, she has seen what humans can do, so it was very hard for her to come back and fight."
Producer Deborah Snyder spoke about the character's powers and place within the greater DC movie universe:
"Her sexuality is part of her power, but she is also a feminist icon. Gender has been a hot topic, so it is very timely to bring her back. The way we have approached it, especially in the standalone movie, that is definitely there. Looking back and doing an origin story – and it is a period piece – see the role of women through history. There is a great source of humour in that now. It is so unbelievable you can't even fathom it. You are still making a statement, but having some fun with it."
And while we're on the subject of Wonder Woman, Chris Pine recently appeared on Jimmy Kimmel Live to promote his new movie, The Finest Hours, and ended up chatting about his role in her upcoming solo movie. The new Steve Trevor says that a female-led superhero movie is going to be a distinctly different experience than one led by a man:
"I think what's really neat about it is that with all of the Thors and the Captain Kirks... I feel like with men at the helm, it's always this kind of revenge cycle thing. It's an eye for an eye, 'We're gonna go get the bad guys' and the bad guys are defeated. What I think is really lovely having a woman at the helm of something like this is just by virtue of her being a woman there's a great deal more compassion, love at the center of the story which for something as big as a film as this is going to be and with the kind of eyes that will watch it, I think it's wonderful. The little bit we can do to inch this universe towards something not as aggressive and as violent as this world can be."
You can watch the whole conversation below. Batman v Superman opens on March 25, 2016 and Wonder Woman opens on June 23, 2017.