Cool Stuff: Help Artist Jeff Victor Get His Cute Art Book 'Adorkable' Printed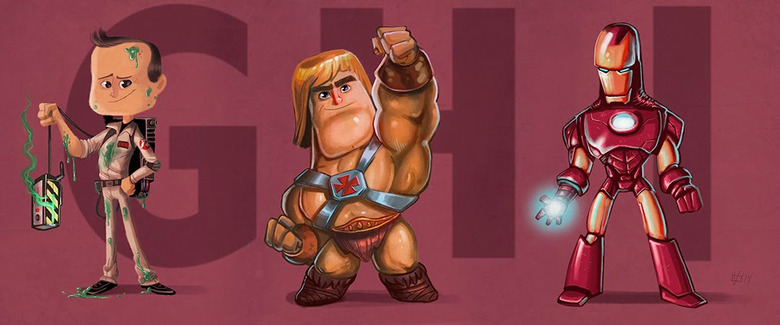 We're fans of fantastic pop culture art, and Jeff Victor is one of those artists that we've featured several times before. One of Victor's trademarks is creation "Evolutions" of characters or actors, but he's also been putting together a collection of pop culture characters that he's been calling "Bubbleheads" because they have giant heads and look absolutely adorable.They're all awesome.
Now he wants to put his art in your hands by way of his second book, Adorkable. And if you want to get your hands on it and some other goodies from Victor you just have to support the project on Kickstarter. Get the details below!
Here's a taste of the Jeff Victor art you'll find in the new book if it gets printed:
Jeff Victor explains:
"Over the last few months, I have collected the best of my recent work into a handsome book. It retains the same dimensions as my previous book, Wicked Crispy. The book will be hardbound with a spot UV gloss cover, 10"x8", and feature 96 jam packed pages of full color art. All my new "Evolutions" pieces (Fall 2013- Jan 2016) will be included, as well as tons of illustrations, (some of which have never been seen), character designs, sketches and a step by step of my process."
Giving $10 will get you an 8x10 print of Victor's artwork featuring Rey and BB-8 from Star Wars: The Force Awakens. Giving $20 gets you that same print and a PDF copy of the book. But if you want that physical copy, it'll take a $35 donation to the Kickstarter project. There's a bunch of other donation options that will get you things like original sketches and more, so check out the full details right here.