'The Divergent Series: Allegiant' Trailer: Shailene Woodley Goes Beyond The Wall And Strips Down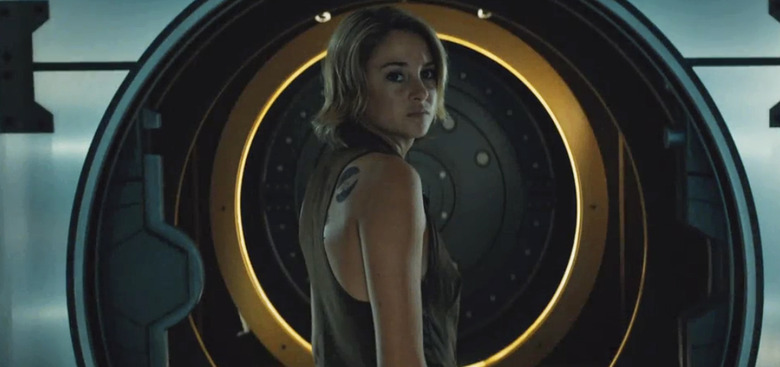 With The 5th Wave hitting theaters this weekend, it's the perfect time to promote the other young adult franchise that's still pumping out sequels. In March, The Divergent Series: Allegiant continues the story of Tris (Shailene Woodley) and the rest of her rebel crew as they decide to venture outside of the walls of Chicago that have kept them separated from the outside world for so long. A new Allegiant trailer shows off what's in store for the gang, but with a different tone than you might expect
Here's the new The Divergent Series: Allegiant trailer from Fandango:
This is quite the strange trailer. The use of music from Jonsi of Sigur Ros attempts to add a bit of wonder to the proceedings, but it doesn't quite work. If anything the footage they this trailer has to fit the music better just has me raising an eyebrow. Fans who have read the books may know the answer, but why is Tris seductively taking off her clothes just to burn them? Are she, Four (Theo James) and the rest of the crew forced to clean up when they meet the people who have been watching them in Chicago this whole time? That's pretty rude, Jeff Daniels.
Honestly, this franchise seems to be going off the rails. The visual effects look pretty terrible, and while that's admittedly something that happens with a lot of blockbusters that are still in post-production, the production design itself also leaves something to be desired. It just feels like the Divergent series is still coasting off the success of both The Hunger Games and Shailene Woodley as an actress without bringing anything new to the table. It's a shame director Robert Schwentke couldn't have made this more interesting.
The third installment of the blockbuster Divergent series franchise, ALLEGIANT takes Tris [Shailene Woodley] and Four [Theo James] into a new world, far more dangerous than ever before.
After the earth-shattering revelations of INSURGENT, Tris must escape with Four and go beyond the wall enclosing Chicago. For the first time ever, they will leave the only city and family they have ever known. Once outside, old discoveries are quickly rendered meaningless with the revelation of shocking new truths. Tris and Four must quickly decide who they can trust as a ruthless battle ignites beyond the walls of Chicago which threatens all of humanity. In order to survive, Tris will be forced to make impossible choices about courage, allegiance, sacrifice and love.
The Divergent Series: Allegiant arrives on March 18.