Making Of 'The Revenant': 45-Minute Documentary Tells You Everything You Want To Know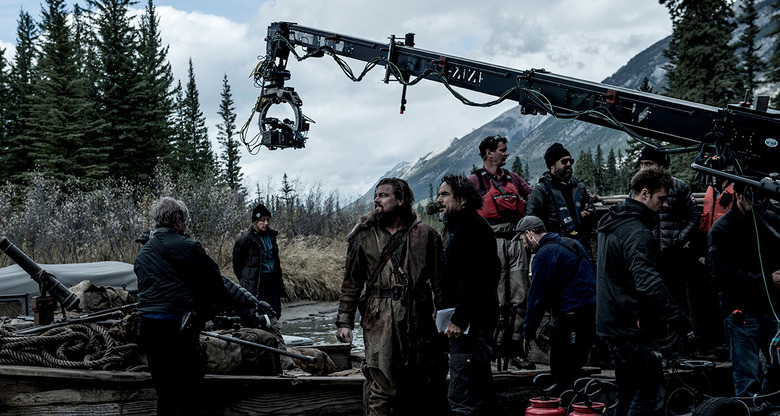 Not too long ago, we featured a batch of nine featurettes from the Golden Globe-winning, Oscar-nominated frontier epic The Revenant, each diving in to nearly every facet of production. And now to keep those with questions about the making of The Revenant satisfied, 20th Century Fox has released a 45-minute documentary that shines some light (only natural though) on the shooting process. It's a fantastic glimpse behind the scenes.
Here's the making of The Revenant documentary A World Unseen from Fox:
Eliot Rausch is behind the camera for this doc, taking you up close and personal with the production from director Alejandro G. Iñárritu. Not only do you get to see just how naturally beautiful the real locations of the film are, and how actors Leonardo DiCaprio and Tom Hardy deal with the elements but you get to see Iñárritu's shooting process for this unique production.
This is much more than a glossy featurette with some talking heads, and it really provides some satisfying coverage and answers about how the cast and crew pulled off such a gorgeous film. From the complication of using antique weapons to including Native American lore properly and respectfully, this documentary by itself is an impressive film taking a look behind the scenes of movie magic. If you want to know more, be sure to check out our interview with screenwriter Mark L. Smith right here.
Inspired by true events, THE REVENANT is an immersive and visceral cinematic experience capturing one man's epic adventure of survival and the extraordinary power of the human spirit. In an expedition of the uncharted American wilderness, legendary explorer Hugh Glass (Leonardo DiCaprio) is brutally attacked by a bear and left for dead by members of his own hunting team. In a quest to survive, Glass endures unimaginable grief as well as the betrayal of his confidant John Fitzgerald (Tom Hardy). Guided by sheer will and the love of his family, Glass must navigate a vicious winter in a relentless pursuit to live and find redemption. THE REVENANT is directed and co-written by renowned filmmaker, Academy Award® winner Alejandro G. Iñárritu (Birdman, Babel).
The Revenant is playing in theaters everywhere now.