'Triple 9' Trailer: Casey Affleck Takes On Cop Corruption And Crime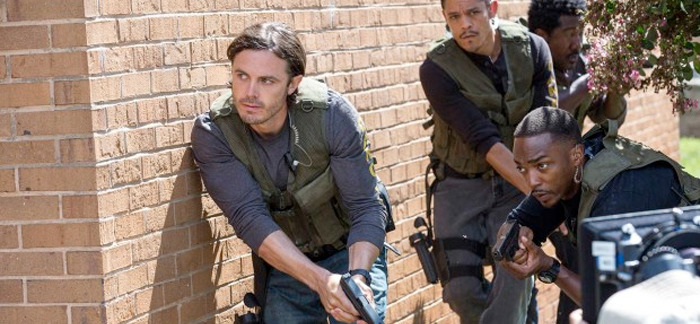 In what appears to be a mix of Training Day, Sicario and Inside Man, a new trailer for the action thriller Triple 9 has just debuted. And with a story that feels very familiar, it's the star-studded cast that seems to makes this one worth watching. Casey Affleck plays a rookie cop joining a crew of dirty cops who have blackmailed to pull off a heist for the Russian mob. No one can be trusted, and someone is probably going to die. Watch below!
Here's the new Triple 9 trailer from Fandango Movieclips:
There's not much in the trailer that we haven't seen before, but that doesn't mean the movie looks bad. It's hard to brush off a movie that has Kate Winslet as a Russian crime boss, looking stunning and intimidating in red. Plus we've got Chiwetel Ejiofor, Norman Reedus and Anthony Mackie attempting to pull off what is supposed to be a nearly impossible heist.
So even if there doesn't seem to be anything groundbreaking at work, the movie still looks like it could be a good time at the movies, especially during a month that isn't usually all that exciting. Plus, there's the obligatory brief shot of someone (Gal Gadot) doing something sexy. Because if there isn't at least a tease of sex in the movie, then no one will go see it.
Woody Harrelson, Aaron Paul, Teresa Palmer and Clifton Collins, Jr. also star in the film from John Hillcoat, director of The Road and the underrated Lawless.If you want to see more from the movie, be sure to check out the red band trailer for Triple 9 right here or the more tame green band trailer over here.
When a crew of dirty cops is blackmailed by the Russian mob to execute a virtually impossible heist, they realize the only way to pull it off is to manufacture a 999, police code for "officer down". The chaos that ensues when a police officer is shot in the line of duty is just the diversion they'll need to do the job, but whether they have the will to kill one of their own is an entirely different matter. Their plan is turned upside down when the unsuspecting rookie they set up to die foils the attack, triggering a breakneck, action packed finale tangled with double-crosses, greed and revenge.
Triple 9 opens next month on February 19th.