Here Is A Gallery Of 90 'Star Wars: The Force Awakens' Images (Just In Case You Need One)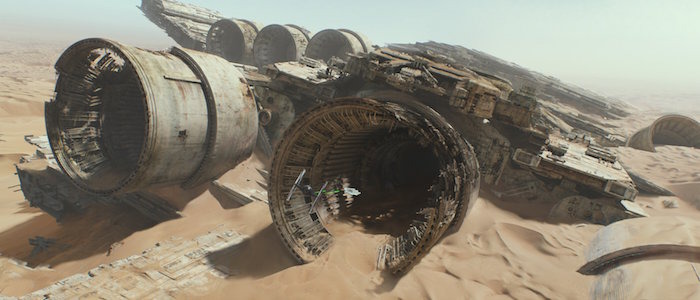 There's a chance that Star Wars: The Force Awakens will become the highest grossing film in the history of the American box office today. It still has $1.2 billion to go if it's going to dethrone Avatar from the top of the international charts, but that that record is not beyond this movie, which has spent the past few weeks shattering expectations left and right. Remember a year ago when people wondered if Star Wars was still viable? Good times. Good times, indeed.
And soon enough, you'll be able to recreate the entire movie frame-by-frame using only images released on the internet. You can get started with the gallery below, which contains 90 images, many of which haven't made the rounds before and some of which have finally appeared free of watermarks.
This collection of images first came to our attention thanks to the work of the fine folks over at Stitch Kingdom, who initially assembled these photos in one place. You're a bunch of heroes.
What's fascinating about the availability of these images, and the sheer quantity of them, is how many Star Wars fans would have given their lightsaber hand to peruse a gallery like this just a few months ago. Before that final trailer arrived, The Force Awakens news front was totally desolate. Sure, you could crawl into the darker corners of the internet and find all of the spoilers and leaked concept art you could ever possibly want, but the real folks (the sane people) had to contend with J.J. Abrams' mystery box. Disney and Lucasfilm played along nicely. After all, they surely had a feeling that this whole thing was going to sell itself.
But here we are now, just three weeks after the movie's release, and we can essentially relive the whole thing via official pictures released on the internet. There's probably an entire article to be written about how quickly the news cycle shifts and turns around a major movie like this. It wouldn't be shocking at all if a new wave of TV spots arrive in the coming weeks containing characters and shots that would have been considered spoilers up through December 17. You can even read the entire screenplay right now.
Anyway, enjoy the gallery below, which contains nice, clean looks at everyone from BB-8 to Rey (Daisy Ridley), Finn (John Boyega), Poe Dameron (Oscar Isaac), Han Solo (Harrison Ford), General Leia (Carrie Fisher), General Hux (Domhnall Gleeson), Captain Phasma (Gwendoline Christie), C-3PO (Anthony Daniels), R2-D2, and Kylo Ren (Adam Driver). Yes, there's even some Constable Zuvio.