Cool Stuff: Sideshow Collectibles 'Evil Dead 2' Figure Will Make You Hail To The King, Baby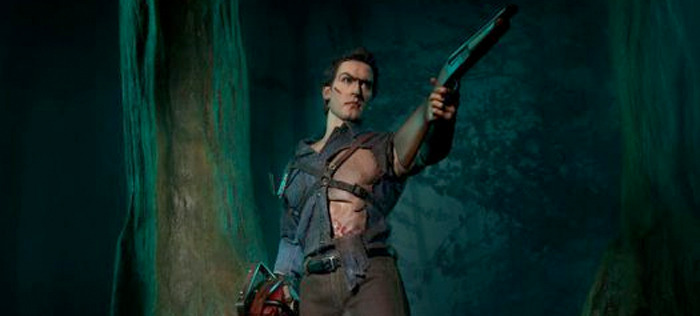 Starz has inspired a resurgence of Sam Raimi's cult classic character Ash Williams thanks to their series Ash vs the Evil Dead. So if you've been going back to watch the original Evil Dead movies and now you're itching for a groovy new collectible, Sideshow Collectibles have you covered with a new figure inspired by the chainsaw-armed version of the grocery store clerk from Evil Dead II. Check out some photos of the new character below!
Here's the new Evil Dead 2 figure from Sideshow Collectibles (via Nerd Bastards):
Aside from the chainsaw arm, this sixth-scale figure has all the right accessories for the 1987 version of the iconic horror hero played by Bruce Campbell, including his double-barreled boomstick, a miniature copy of the Necronomicon, a severed Henrietta head and three possessed hands.
Capturing all that is awesome about Bruce Campbell as the cult classic icon, Ash Williams returns to the remote cabin in the woods where he must hack and slash his way past hordes of relentlessly deranged Deadites who want him dead by dawn. Just your average convenience store employee with a penchant for sweet-talking the ladies, the resilient, blood-stained survivor has been through hell and back in his torn shirt and brown pants. Thanks to the forces of darkness summoned by the evil Necronomicon, the glorious gorefest continues as Henrietta's disfigured remains emerge from the cellar, dying to swallow his soul. But 'armed' with more than cheesy quips, Ash can definitely hold his own with his infamous chainsaw appendage, and handy sawed-off double barrel shotgun. Bring it on, baby.
The figure is available for pre-order right now for $239.99 at Sideshow Collectibles.