'Sesame Street' Trailer: The Beloved Children's Show Now Shares A Network With 'Game Of Thrones'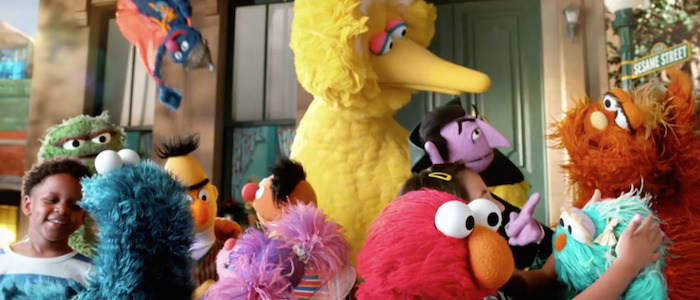 A few months ago, it was announced that Sesame Street would be leaving PBS after 45 years and taking up new residence at HBO. Today, the first trailer for the iconic children show's 46th season has arrived and despite the new network, there aren't any executions or sequences of full-frontal nudity to be found. At least not on first glance. And we're talking about humans, because Big Bird and Elmo are, technically, always completely naked.
But let's move on before we fall down that horrifying rabbit hole. Watch the new Sesame Street HBO trailer after the jump.
The trailer is a mixture of old and new footage and, well, it looks like Sesame Street. Although HBO's deep coffers were the main reason for the show departing the world of public television, this looks like a classic case of everyone involved deciding to not fix something that isn't broken. After all, this didn't become the most famous and beloved semi-educational kids' show in history by drastically reinventing itself at the drop of a hat. And since this is Sesame Street, a few familiar celebrity faces show up to help teach kids how to count and read, including Tina Fey, Jon Hamm, and Pharrell Williams.
In addition to the newer footage, this trailer also serves as a reminder that HBO will now have access to past seasons of the show, which means you'll soon have 45 seasons of parent-approved television to distract your kids with while you find time to do adult stuff. Like pay the bills and scream at your walls and curse God for not giving you a purpose and wonder when the new season of Game of Thrones will premiere.
Speaking of Game of Thrones, it is a little odd that the network behind the most explicit television shows on television has decided to go all-in on the most toddler-friendly show ever crafted, but Sesame Street is ahead of the curve. They've been making movie and TV parodies of more adult-oriented fare for quite some time now, including a sketch parodying Game of Thrones itself. The jokes in this thing are so specific that it's almost hard to believe it was made.
The 46th season of Sesame Street will premiere on January 16, 2015 on HBO. After nine months, these new episodes will air on PBS, allowing public broadcasting to still hold on to a piece of this pie. Episodes will also be available to stream through both networks.