'Everybody Wants Some' Trailer: Richard Linklater Welcomes You To The '80s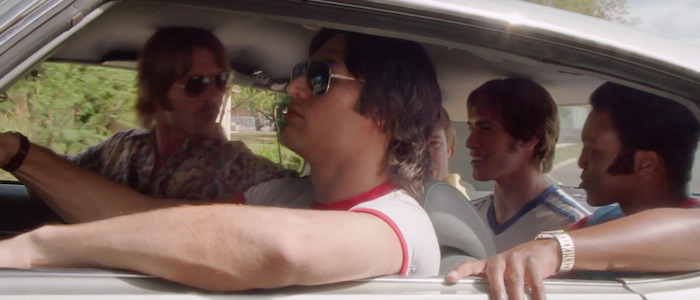 Few filmmakers have showcased the consistency of Richard Linklater, whose worst movies tend to be significantly more interesting than that best movies from many of his peers. Right now, he's coming off one of the hottest streaks of his career so far – how exactly does one go about following up the one-two gut-punch of Before Midnight and Boyhood? The answer is simple: return to your roots and make another genial slacker comedy.
The Everybody Wants Some trailer showcases Linklater operating on familiar territory, but this is the kind of turf that has led to gems like Slacker and Dazed and Confused. It's no accident that this preview name-drops the latter not once, but twice. A period piece hangout movie about a bunch of lovable schmoes going about their daily lives? Directed by Richard Linklater? Yeah, sure. We're in.
Set in the '80s, Everybody Wants Some follows a group of college students united by common interests: beer, girls, parties, and baseball. It's a hard movie to sell because there doesn't seem to be too much in the way of plot here, just a whole bunch of charming, well-observed incident and period detail.
And while Linklater has the clout to work with whatever movie stars wants at this point, he's stacked his young ensemble almost entirely with unknowns. Could the next Matthew McConaughey lurk among Will Brittain, Zoey Deutch, Ryan Anthony Guzman, Tyler Hoechlin, Blake Jenner, Glen Powell and Wyatt Russell? It's certainly possible. Linklater has built a career around finding terrific young faces and directing them to tremendous performances.
For the record, here's the trailer for Dazed and Confused. It's easy to see why these two movies are being tied together at the hip – their spiritual connection seems to go deeper than both of them simply being named after rock songs:
Everybody Wants Some will premiere at SXSW 2016 in Austin, Texas, which isn't surprising at the slightest. The man is one of the city's favorite sons and you can't navigate the local film scene without  seeing his fingerprints. Show us a Richard Linklater movie Austin won't screen and we'll show you an alternate universe where Richard Linklater doesn't make consistently terrific movies.
Here's the official synopsis:
Set in the world of 1980s college life, Everybody Wants Some is a comedy, directed and written by Richard Linklater, that follows a group of college baseball players as they navigate their way through the freedoms and responsibilities of unsupervised adulthood. Get ready for the best weekend ever.
Although it doesn't have an official release date yet, you'll surely have plenty of opportunities to see Everybody Wants Some sometime in 2016. You can also check out the first poster for the film below.