We Finally Have George Lucas' Own Reaction To 'Star Wars: The Force Awakens'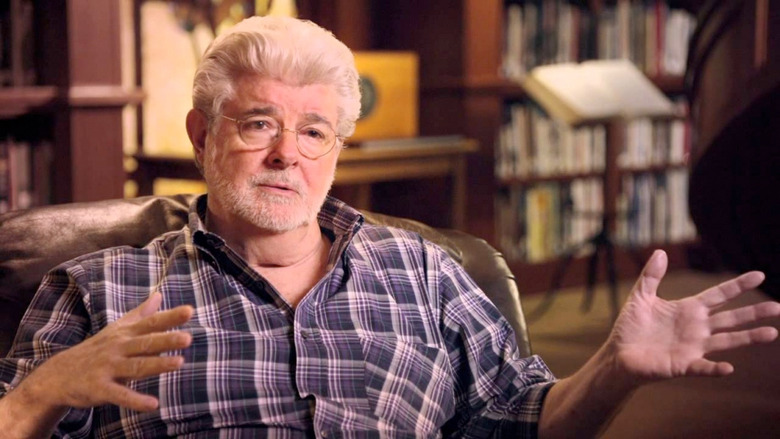 Over the weekend, Lucasfilm president Kathleen Kennedy revealed that just six days after George Lucas said he hadn't seen a single frame of Star Wars: The Force Awakens, the creator of the sci-fi universe had finally seen the film. In addition, she told us that "he liked it." But now we finally have word from the man himself, kinda.
Find out about this George Lucas The Force Awakens reaction after the jump!
On Sunday, Vulture caught up with Lucas on the red carpet at the Kennedy Center Honors ceremony in Washington D.C., where the filmmaker was being honored for his lifetime achievements in arts and culture. It's just a quick take from Lucas, but when asked what he thought about the movie, this is what he said:
I think the fans are going to love it. It's very much the kind of movie they've been looking for.
Well, that's a bit different from just liking it. While it's likely that he did tell Kathleen Kennedy and maybe J.J. Abrams that he enjoyed the film, this reaction from Lucas is a bit more telling. Basically, he's saying that this is the movie Star Wars fans have wanted for a while, but it's not the movie that he would have made (obviously).
However, if you look back at what Lucas recently said about his divorce from Star Wars after Disney bought Lucasfilm, this could be a slight dig at the film. Lucas recently talked to Vanity Fair about he and Disney going their separate ways when the studio was not interested in the direction he wanted to take the Star Wars saga:
The issue was ultimately, they looked at the stories and they said, 'We want to make something for the fans.' People don't actually realize it's actually a soap opera and it's all about family problems – it's not about spaceships. So they decided they didn't want to use those stories, they decided they were going to do their own thing so I decided, 'Fine.'
Lucas seems to indicate that fans just want spaceship action and lightsaber fights without the family problems that drive the story and actually give it substance and an emotional core. But if that's true, then most fans probably would have loved the prequels. Fans have just been looking for something that is more in tune with the spirit of the original films, and so far it seems like that's what director J.J. Abrams will deliver.
We can't really slight Lucas for giving this kind of reaction to The Force Awakens though. After all, he also recently said this about leaving Star Wars behind:
When you break up with somebody, the first rule is no phone calls. The second rule, you don't go over to their house and drive by to see what they're doing. The third one is you don't show up at their coffee shop and say you are going to burn it... You just say 'Nope, gone, history, I'm moving forward.'
And when you break up with somebody, and they get a new significant other, you're not immediately going to say they're a great person. You're going to say, "Well, I'm just glad you're happy." Hopefully Star Wars fans really will be happy when The Force Awakens finally hits theaters for the first time in just 9 days.