'The Wolf Man' Reboot Will Kill A Bunch Of Villagers And Feel Really Bad About It In 2018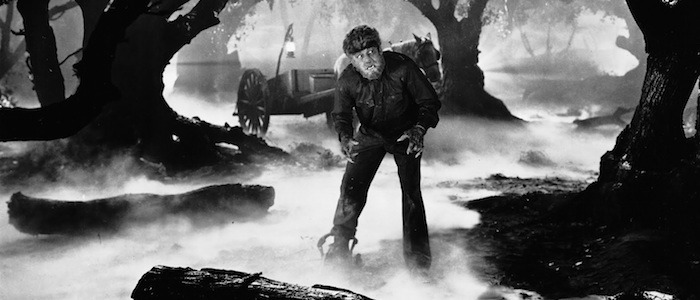 We have written about our trepidation over Universal's plans to revive their classic monsters several times now. Sure, the "shared universe" approach works wonders for the likes of Marvel, but is it really the right way to approach classic characters like Frankenstein, Dracula, and the Mummy? Do we need Van Helsing to brush shoulders with the Creature from the Black Lagoon? Will he have to endure jokes about Samuel L. Jackson showing up after the credits to recruit the monsters for a secret team? It's enough to cause Universal monster fans to break out in an icy sweat.
But enough of that for now. These movies are happening! And while The Mummy is happening first, it looks like The Wolf Man reboot will be next in line. It has a release date and everything.
According to JoBlo, The Wolf Man will open on March 30, 2018. That's approximately one year after The Mummy's March 24, 2017 release date. In other words, it looks like Universal knows that these characters probably can't tussle with the superheroes and dinosaurs that usually populate the summer months, so they might as well try to own the spring instead. Why Universal is not pushing for their classic monsters to arrive in theaters close to Halloween is a question beyond our pay grade.
The screenplay for the new Wolf Man was written by Aaron Guzikowski, who is best known for writing the intense (if occasionally ludicrous) thriller Prisoners. Apparently, horror is his thing now since he's just been hired to rewrite the next Friday the 13th movie.
Since director Alex Kurtzman and Universal are pursuing Tom Cruise to star in The Mummy, we imagine that they'll also go after some big name talent for The Wolf Man. And they should: it's one helluva part. All of the Universal monsters are tortured souls, but Larry Talbot is tragedy personified. Here is a good man who, despite resisting it with every fiber of his being, transforms into a monster when the moon is full and wreaks havoc, targeting anyone with a pulse. This is a part for a movie star.
It's interesting that the first two films in Universal's new monster universe revolve around characters that they've revived in relatively recent history. The Mummy was reimagined in 1999 as an Indiana Jones-esque action series and until the desperate and sad third movie, the franchise proved lucrative. And then there's 2010's The Wolfman, a noble misfire whose disastrous production is the stuff of legend. Although well-intentioned (it was a proper, classical horror movie by design) and perfectly cast (Benicio del Toro, Anthony Hopkins, Emily Blunt, and Hugo Weaving do everything they can), the film is is really just one-jaw-dropping disaster of a scene after another. Who can forget the grand climax, where two CGI werewolves punch each other for all kinds of stupid reasons? Or the scene where a CGI werewolf leaps from rooftop to rooftop like he's Spider-Man?
Then again, the worst of the Mummy movies and The Wolfman have nothing on the embarrassing heap that is Van Helsing and Universal is also planning to reboot that as well.
With The Mummy arriving in 2017 and The Wolf Man in 2018, it is time to start pondering which character gets 2019. With scripts centering on Van Helsing, the Bride of Frankenstein, and the Invisible Man currently in the works, your guess is a good as ours.