Report: Every Young Actor In Existence Has Auditioned For The Han Solo Movie Now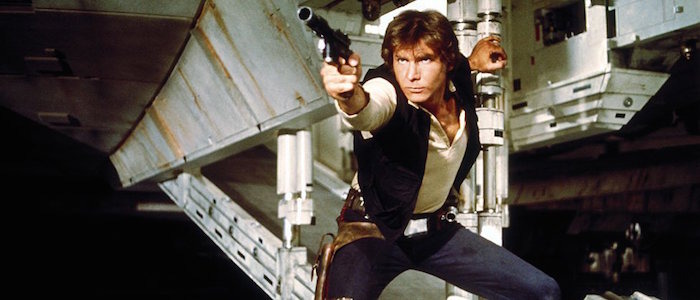 Recasting Han Solo for a spin-off movie about the charming scoundrel's early adventures across the galaxy sounds like such a disastrous folly that of course directors Chris Miller and Phil Lord are involved. Only the directors of 21 Jump Street and The LEGO Movie, guys whose modus operandi seems to be "How do we take this terrible idea and make it glorious?", could make us feel like this one is going to be totally okay.
But still: how the heck do you recast Han Solo, a character who is built entirely on the specific charms of the great Harrison Ford? Fortunately, Miller, Lord, and Lucasfilm know just how tricky and important this is going to be. If they don't find the right actor, this whole thing falls apart. And that's why they've already looked at thousands of actors for a movie that doesn't even begin filming for well over a year.
The hunt for a new Han Solo actor is officially underway and there are all kinds of people, known and unknown, in contention for this potentially career-defining (or derailing) role.
The Hollywood Reporter has details about the casting process for the untitled Han Solo spin-off movie, which is set to begin filming in early 2017 for a May 25, 2018 release date from a script by Lawrence and Jon Kasdan. It seems that 2,500 actors have already auditioned for the part in person or by tape in what is being described as "the widest casting search ever." You've got to hand it to casting director Jeanne McCarthy – she's certainly earning her paycheck.We know from earlier reports that the young Han Solo seen in this movie won't be kid, but a young man in his late teens or early 20s. THR says that the sweet spot for casting has been actors in their mid-20s, although the candidates have ranged from 16 through 34. Since Harrison Ford was 35 in the original Star Wars, expect to see someone under 30 nab this part. What's the point of a young Han Solo movie if he doesn't look young?
And while everyone is surely looking at lesser known actors and promising newcomers, a whole bunch of known names have also thrown their hat into the ring. Auditions have come in from the relatively famous likes of Dave Franco, Aaron Taylor-Johnson, and Miles Teller, but Logan Lerman (Fury), Ansel Elgort (The Fault in Our Stars), Nick Robinson (Jurassic World), Leo Howard (Kickin' It), Tony Oller (The Purge), Tom Felton (the Harry Potter movies), Jack Reynor (Transformers: Age of Extinction), Colton Haynes (Arrow), Max Thieriot (Bates Motel), Chandler Riggs (The Walking Dead), and Rami Malek (Mr. Robot) have also been considered. There's not too much crossover with the actors we've previously considered for the part, but that's a very interesting batch of performers. Some seem like they could work and others, let's be polite here, don't.
Since Han Solo has to be naturally funny and charming, THR notes that young comedians have also been asked to read for the part.
Considering the baggage that comes pre-attached to Han Solo, we can't help but think that going with a lesser known (or unknown) actor may be the way to go. Sure, Miles Teller is a great actor, but can we buy a performer we already know so well from other films as this character? Casting relative unknowns worked well for the original Star Wars and J.J. Abrams followed suit when casting the leads for Star Wars: The Force Awakens.
One final note before we leave you to go complete the Kessel Run in less than twelve parsecs: this project is apparently working under the secret codename "Red Cup." If you don't get that, think about it. That's a fine, dumb joke right there.