Mass Hysteria: Hi-C's 'Ghostbusters' Drink Ecto-Cooler May Be Making A Comeback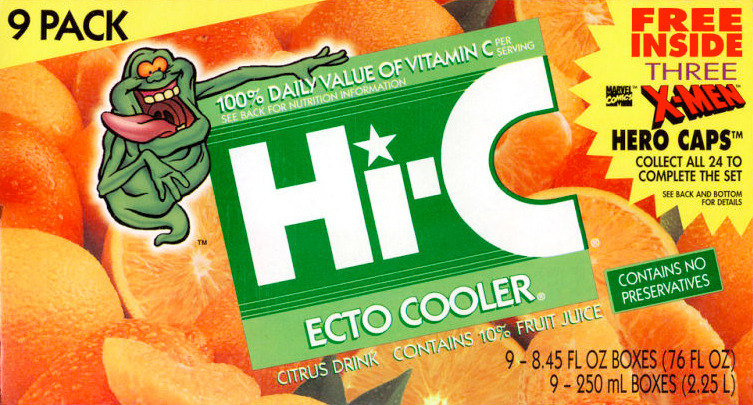 If there's one thing to be thankful for this weekend besides friends, family and that new Star Wars: The Force Awakens extended TV spot that arrived yesterday, it's the potential return of one of the most wonderful drinks from the late 80s and early 90s.
Even for kids who were inexplicably not fans of Ghostbusters in the 90s, the Hi-C juice flavor Ecto-Cooler was a staple in lunchboxes and sleepovers, featuring Slimer on the box as the drink's mascot. It was all the rage from when The Real Ghostbusters series started and lasted well past the cancellation of the animated series. But it's been gone for years. However, there might be hope of a comeback as Coca-Cola just recently re-registered the trademark for Ecto-Cooler back in September.
Planet Ghostbusters (via io9) brought the trademark renewal to our attention, and here it is:

Even though Slimer left the Ecto-Cooler box in 1997, the name Ecto-Cooler was discontinued until 2001 when it was renamed Shoutin' Orange Tangergreen, though many store receipts kept the old name. In 2006 it was changed to Crazy Citrus Cooler and then a year after that it was gone completely, though a recipe began circulating online to recreate it thanks to the Ghostbusters Chicago Division.
It's important to note that simply renewing a trademark doesn't mean Coca-Cola has Ecto Cooler coming back for sure. They may just want to renew it so they don't lose the rights to the name, leaving someone else to cash in on the nostalgia factor. But since there's a Ghostbusters reboot arriving next summer (which may or may not include Slimer), and people love things from the past being brought back just for the hell of it, the return of Ecto-Cooler doesn't seem impossible.
Also, let's not forget that Coca-Cola recently brought back Surge due to popular demand, and since Ecto-Cooler probably has more people clamoring for that drink to make a comeback, I think it's a no-brainer for this to happen. It might be strange to get excited about throwing more money at a multi-billion dollar corporation who loves to sell us overpriced sugar water, but this is America, so what do you expect?
The new Ghostbusters movie is slated to arrive on July 15th, 2016, and it would be nice to have an ice cold, refreshing Ecto-Cooler to sneak into the movie theater when we watch the movie or build that great new LEGO Ghostbusters firehouse coming next year.