The Best & Worst Sketches From Matthew McConaughey's 'Saturday Night Live'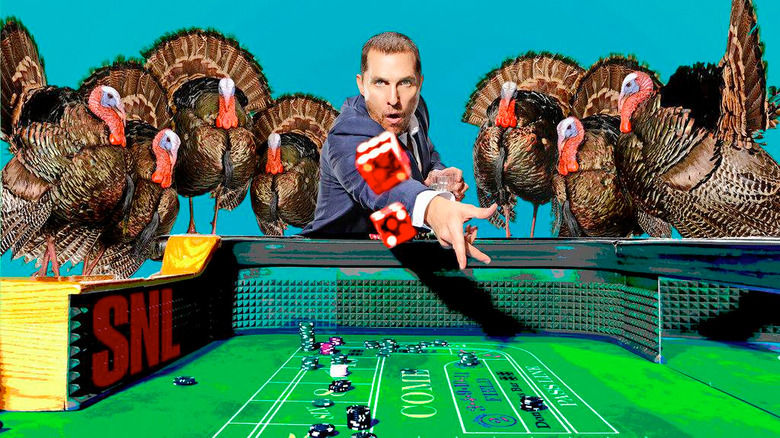 Finishing out three weeks in a row of new episodes, Matthew McConaughey took the stage at Studio 8H to host Saturday Night Live for the first time in 14 years, a time period in which the actor's career took quite the dip, but ended up reinvigorated by what people have come to call the McConaissance. Because of his sterling profile as a much sought after actor again, it was great to see him stop by SNL, especially at a time when he doesn't have a new movie to promote. And he was definitely having a lot of fun.
Check out our review of every sketch from the Matthew McConaughey Saturday Night Live below!
The Best
Star Wars Auditions – It's not as good as the lost Star Wars auditions from back in 1997 when the Special Editions were all the buzz, but this was still a very fun sketch. It definitely gets bonus points for actually bringing in Daisy Ridley, John Boyega and J.J. Abrams for the sketch, even though the two new stars of The Force Awakens didn't really get to do much. But the cavalcade of impressions was fantastic, and you can't go wrong with a cameo from Jon Hamm. I will say that I was missing McConaughey in this sketch though.
3D Printer Man – While I was hoping that there would be a twist at the end of this sketch that showed McConaughey was just a weird guy as opposed to the actual 3D printer man, his performance still cracked me up. The line about his favorite food being every single banana had me rolling for some reason, and he was just perfect in this sketch.
Town Hall Meeting – It's been awhile since we've had a truly peculiar sketch in the 10-to-1 slot, but this one did the trick. As with every sketch he was in, McConaughey gave 100% and that made all the difference. From the prosthetic hand to the pointing out of everyone's specific trait that he identified them by, this was an odd sketch that McConaughey really elevated and made fun.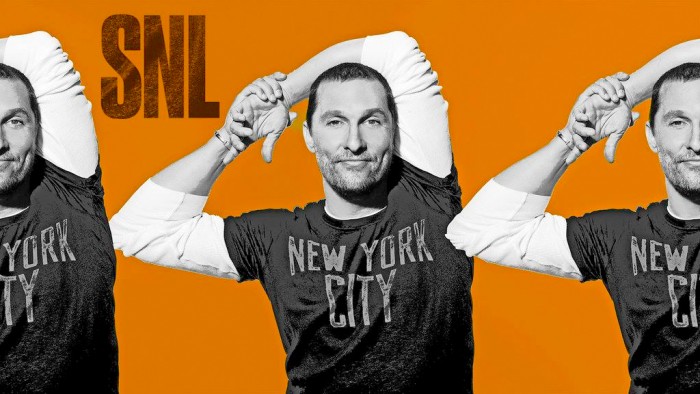 The Average
A Thanksgiving Miracle – Adele was the musical guest, so of course we had to have a sketch that used her music somehow. And while this was certainly amusing, if only for the escalating presence of Adele's music video at Thanksgiving dinner, especially for Jay Pharoah and Beck Bennett, it did feel a little forced simply because Adele was there. I definitely chuckled at it, but it was more cute than funny and tailor made to go viral when people get to work on Monday.
Fox & Friends: Syrian Refugee Crisis – Bobby Moynihan consistently makes this sketch funny, but this time it didn't quite strike the same comedy chord for me. The reliable Kate McKinnon was fine and Jay Pharoah's Ben Carson impression is right on the money, but some of the jokes (especially with Black Friday) felt a little too easy. Plus, we didn't even get a list of corrections, which is usually my favorite part of this sketch.
Blues Shack – Kenan Thompson really helped this sketch land for me, mainly because of the look on his face and the reaction to all of McConaughey's complete non-issues that he thinks will make good blues lyrics. I feel like it might have worked a little better if they got a little darker with the blues songs, but it worked out all right (no I won't say that two more times just because McConaughey hosted)
The Worst
Should You Chime in One This? – Conceptually, this is a great idea. But the set up seemed to turn it into a one-note joke about people who just shouldn't be talking about these timely topics. Maybe the characters needed to be a little more awful for this to work better, but either way, the pacing felt off and I only found myself laughing a couple times.
Right Side of the Bed -  All right, I think it's time to retire this inexplicably recurring sketch. Taran Killam and Cecily Strong are really good at these characters, who seem to be inspired by someone that a writer or cast member knows, but the joke has run its course, and it wasn't really that funny to begin with. At the very least, McConaughey's weird turkey guy was a nice touch, but otherwise, it's time to shut this down.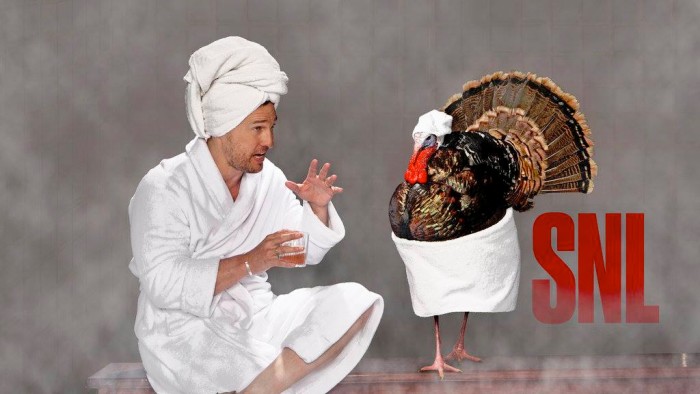 Weekend Update
Colin Jost and Michael Che have really found their groove, and it lies in being much more laid back and casual with each other as opposed to acting like real newscasters trying to do comedy. The two good friends are finally bringing their chemistry to the desk, and their interactions have vastly improved weekend update these past three episodes. It seems like they've figured out how to deliver on a consistent basis.
Laura Parsons – Vanessa Bayer has used this kind of character before, but bringing her to the Weekend Update desk in this darker manner was absolutely hilarious. Bayer's kid actor voice is pitch perfect, and hearing her spout off these jokes that are just depressing as hell in the most over-the-top, childish way is really funny.
David Ortiz On Retirement – As someone who's not too keen on the sports, this wasn't my favorite part of Weekend Update, but I'm just glad that they gave Pete Davidson and Leslie Jones a break this week. Pretty much any of Thompson's Weekend Update characters are going to deliver, and even though this one isn't one of my favorites, I think I enjoyed it more simply because the rest of Weekend Update was so great.
The Host
Matthew McConaughey had an absolute blast hosting Saturday Night Live. And with nothing to promote, you know that he came to host after 14 years away simply because he wanted to (in addition to getting paid). Even though the episode around him wasn't particularly great, it was still pretty entertaining. What I really liked about McConaughey's hosting turn actually came with the monologue as he told everyone how the famous "Alright, alright, alright" line from Dazed and Confused came to be. I wouldn't mind more monologues like that if the stories are just as interesting.
The MVP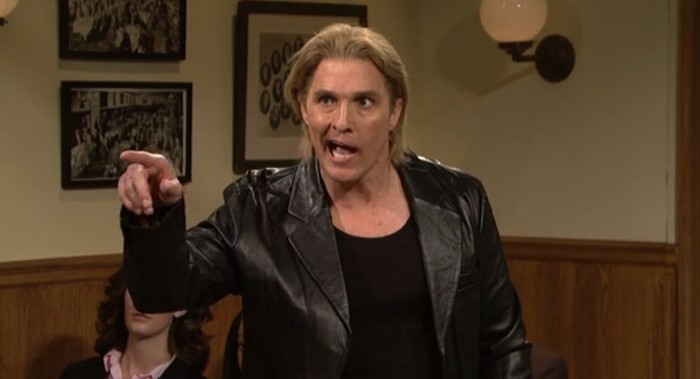 Matthew McConaughey – None of the cast members really had a stand out night, even though Kenan Thompson came close. But sometimes that's really good, because it means everyone was on the same playing field, and the host gets a chance to take the spotlight. That's exactly what happened with this episode as McConaughey threw himself into every character like any good actor. The actor shows that he's got some great comedic chops, and they need to be used more often.
The Final Word
This wasn't an oustanding episode, but I was happy to see that the writers and cast weren't tired in this last episode of three shows in a row. They can get exhausted towards the end of a run like this, but if they're tired at all, it didn't show in an obvious way that impacted the show. Weekend Update has finally hit its stride, and I really hope the final three episodes of the year in December amp things up, especially with first time host Ryan Gosling, returning host Chris Hemsworth and Tina Fey and Amy Poehler hosting together. It's going to be a fun month.