VOTD: Final 'Star Wars: The Force Awakens' Trailer Gets Sweded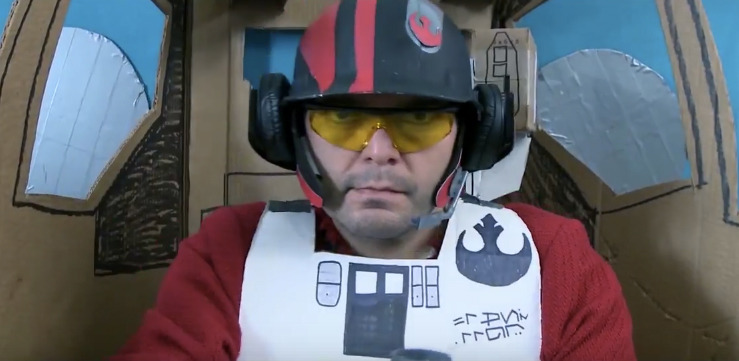 Last night we were caught off guard by the unveiling of a new TV spot for Star Wars: The Force Awakens. This time the focus was on Finn, likely as a way of keeping fans guessing as to whether it will be John Boyega's Finn or Daisy Ridley's Rey who becomes the new new hope of the Star Wars saga. You can check it out right here.
But if you're done watching any new footage after the final trailer for the movie, then you can kill some time by checking out the final The Force Awakens trailer sweded, with some of the worst Stormtrooper helmets you've ever seen. But there is some real fire used at one point that's pretty cool.
Here's the final Star Wars: The Force Awakens trailer sweded by Dumb Drum:
Between the flames used for the explosion on Jakku, those adorable little cardboard ships, and however they made BB-8 roll separately from his head, this is a pretty fun homemade trailer. The fake, burned Darth Vader helmet actually looks a bit creepier than the real one. At the very least, the Force Awakens sweded trailer is something that will just get you a couple minutes closer to the release of The Force Awakens in theaters in under a month.
We're heading into the home stretch now, so the closer we get to release, the more cautious some of you fans are going to want to be. Thankfully, Disney is doing everything they can to avoid spoilers getting out, so everyone should be able to go into this one mostly spoiler-free, unless of course you've been reading the rumors and some of them turn out to be true. But that's something you won't know until it actually happens, so it'll still be a surprise.
Star Wars: The Force Awakens hits theaters the evening of December 17th. We could not be more excited.