New 'Star Wars: The Force Awakens' Footage: Introductions To Friends And Enemies, Old And New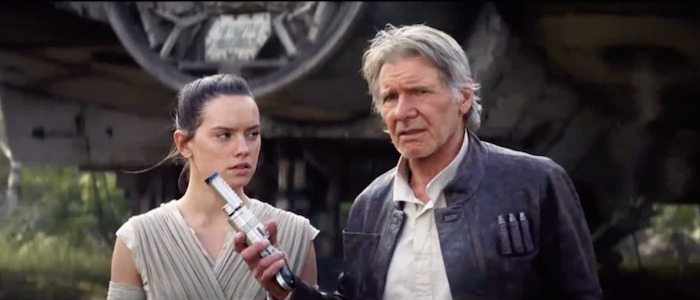 It's been one helluva busy week for Star Wars: The Force Awakens news. With a little over a month to go before J.J. Abram's heavily anticipated, long-awaited sequel to the most popular movie franchise of all time arrives in theaters, the floodgates have begun to open. The mystery box is no more. This new extended TV spot contains more action and excitement and character beats than most of the previous full trailers. It's madness. But, you know, the good kind of madness. The kind you want to engage in.
You don't need us to tell you this, but you can watch the new Star Wars footage after the jump.
If you're trying to keep yourself pure for your first viewing of The Force Awakens, you may want to stay clear of this spot. It contains at least a dozen nifty moments that haven't been seen in any of the previous trailers or spots so far. None of it spoils the story (the exact nature of this movie's plot is still under wraps), but there are scenes here that some fans may want to experience first in a movie theater. Just a polite heads up.
Eh, you didn't even read that previous paragraph and just hit play on the embed below, didn't you?
Like one of the previous TV spots, this one opens with narration from Lupita Nyong'o's Maz Kanata and a few familiar shots of the Jakku desert...and then it goes and starts delivering the goods. Finn (John Boyega) and Rey (Daisy Ridley) introducing themselves, the first reveal of their names in any footage! Rey kicking ass with her staff in some kind of shantytown. Rey and Finn dodging explosions from a TIE Fighter assault! Han Solo (Harrison Ford) in a blaster battle with Stormtroopers! Han muttering what sounds like the understatement of the year when he hands Rey a blaster and dryly she says she's going to need it! A gorgeous shot of what appears to be General Leia (Carrie Fisher) and the rest of the Resistance leadership gathered for a big meeting! And, most interestingly, Finn trying to strike down a Stormtrooper with his lightsaber, only to realize that the cannon fodder of the First Order now have a way to fight back against such weapons.
Look: there's not much to say here other than "This looks really cool." Because it does. All of the Star Wars news that's dropped during this very, very hectic week has been promising, hinting at a movie that looks like the sequel we've wanted. The disappointments of 1999 may still burn like an ongoing allergic reaction, but you've gotta' have faith. You can't lift an X-Wing out of a swamp using your brain and a wave of your hand without a little bit of faith.
Star Wars: The Force Awakens opens on December 18, 2015.