New Footage Analysis: 'Star Wars: The Force Awakens' International Trailer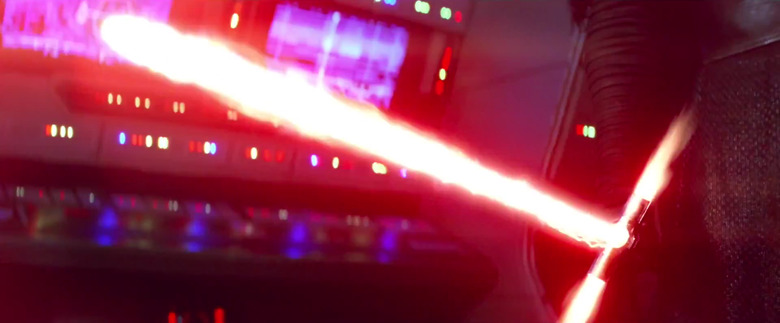 This morning, Star Wars fans were surprised like it was Christmas Day with an international trailer for Star Wars: The Force Awakens that was chock full of new footage from the highly anticipated sci-fi sequel. We're not just talking about a few tiny shots here and there. The trailer has some very extensive footage that we hadn't seen at all before.
And since we're rabid Star Wars fans here at /Film, we just can't help but do a breakdown of all the new footage in The Force Awakens international trailer to see if it offers any hints as to what we can expect in the movie.
Since there are some repeat shots from the final US trailer for The Force Awakens, we're mostly going to focus on the new footage, with the exception of two key shots, mostly because of the importance of the voiceover in them. But we'll get to that later.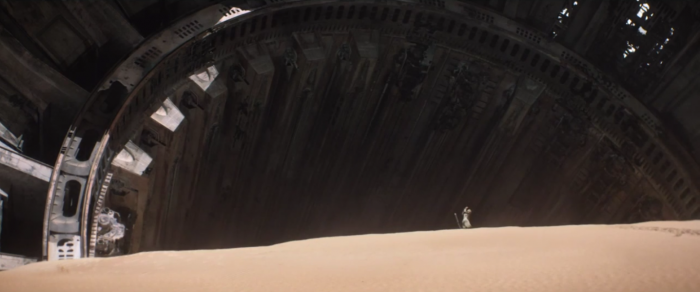 Here's a new shot of Rey standing outside of one of the crashed Star Destroyers, showing the sheer size of the vehicles. I wonder what she's scavenging from the wreckage. What is she looking for? Is she just selling whatever she can salvage? We know her goggles are made from an old Stormtrooper helmet and have heard she's living in wrecked AT-AT, so she's clearly good at recycling old things, but we've heard that she also trades parts for water.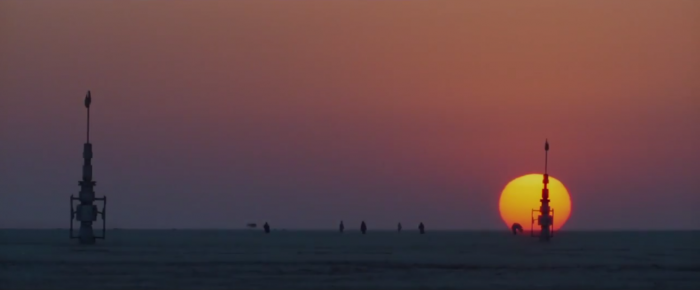 A gorgeous sunset shot reminiscent of those we saw on Tatooine in the first Star Wars (complete with moisture vaporators and maybe Jawas), perhaps hinting that Rey's journey will be similar to that of Luke Skywalker's. Everything we've seen so far and the little hints of the story we've gathered seem to indicate that very similarity.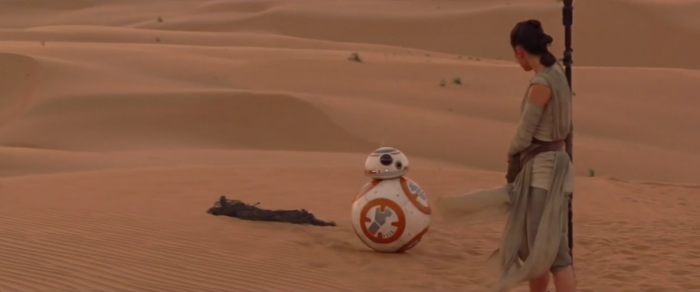 This looks to be Rey and BB-8's meet cute for The Force Awakens. We've seen a photo of Rey freeing the little ball droid from the net of a scavenger on Jakku riding a new creature called a Luggabeast, and I imagine this is the first time they meet. We get some new dialogue from Rey (and I think most of us were surprised to learn had a British accent, since it was undetectable in the brief lines she had in the final US trailer).
Anyway, the lines here are also pretty revealing about Rey's character. She asks BB-8, "Where do you come from?" And he makes the cutest droid sounds, presumably something about waiting for someone. Rey responds, "I know all about waiting...for my family." Was Rey left behind on Jakku and told her family would come back for her? Who are her parents?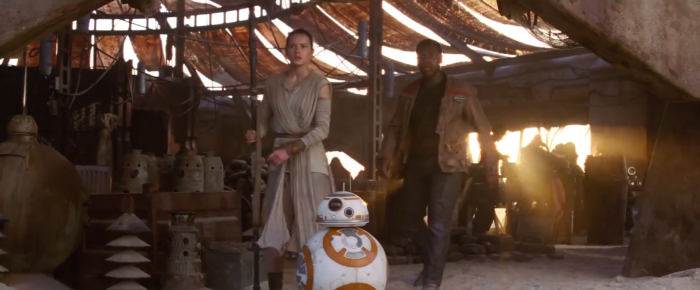 Finn and Rey follow BB-8 rushing out of this little market, and they see the First Order arriving, likely to track down the droid, a plot point not dissimilar from what happens in A New Hope.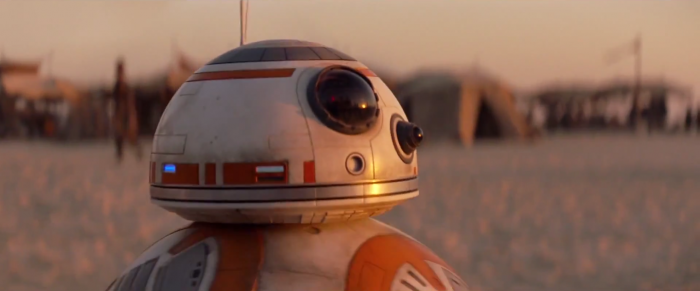 BB-8 looks on at at the sunset (or is it the sunrise?), which is made a little less beautiful this time by...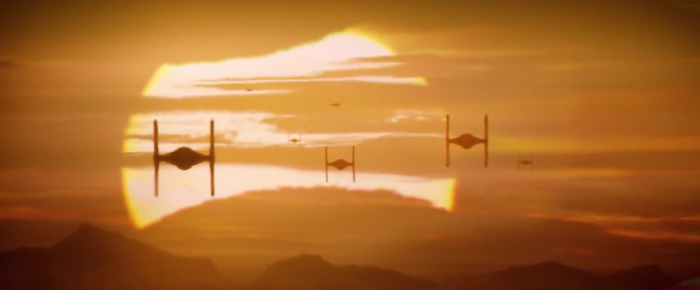 A slew of First Order TIE Fighters, riding into town like bandits in the old west. There seems to be seven of them, which feels a bit excessive, but better safe than sorry I suppose. This may actually be the morning instead of dusk because we've seen shots of what happens when the TIE Fighters attack, sending Finn, Rey and BB-8 running from a big explosion.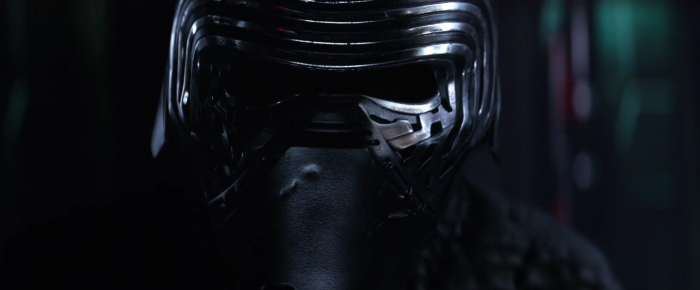 This isn't a shot we haven't seen, but we get a new line from Kylo Ren that we haven't heard before. He says, "I will fulfill our destiny," before saying the line we've already heard, "I will finish what you started." Is the "our" in this equation meant to be Kylo Ren and Darth Vader? What destiny does he think he needs to fulfill and why does he think it lines up with Darth Vader's? Does Kylo Ren think he's the one to bring balance to the Force?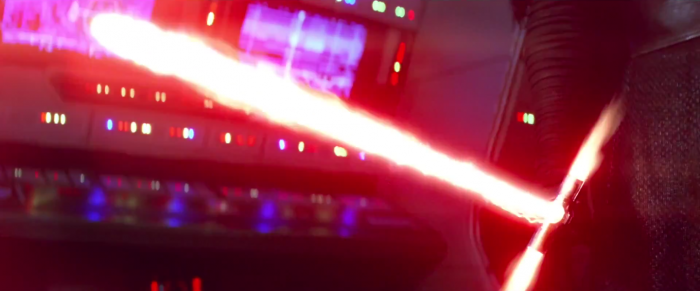 Kylo Ren ignites his unique lightsaber, giving us an even more detailed look at how this blade is much different from your average lightsaber. It seems almost unstable, perhaps because it's a makeshift lightsaber, and not as high quality as it should be. Or maybe it's made that way by design, to be more intimidating and dangerous. Also, is he on a Star Destroyer? Or at Starkiller Base? We're not sure.
This is the first time we've heard any of the new character's names. Finn and Rey officially meet after they've escaped the First Order in the Millennium Falcon, though it's the latter who has been getting the focus for this whole trailer, and that continues later too.
A couple new shots of Leia, looking at at the battle in some kind of war room reminiscent of the character poster that was just revealed earlier this week. Also, if you look in the background of the first shot, you can see Ken Leung (X-Men: The Last Stand) as some kind of Resistance officer. And in the second shot in the same location, we finally get a new shot of C-3PO with his red arm, and that's Poe Dameron in the background with Leia.
This is one of the most intriguing new pieces of footage in the new trailer. This is happening in the desert somewhere, so it's likely on Jakku. But when does this happen? Is this how BB-8 ends up on Jakku? Is that explosion from whatever ship brought BB-8 to the planet? We know the First Order attacks a village on Jakku at night, so maybe this is where all that action happens, and BB-8 gets picked up by that aforementioned scavenger in the morning. The pieces do seem to fit together rather nicely. But who had BB-8 previously? Maybe it's Poe Dameron, since we see the ball droid in an X-Wing in the US trailer.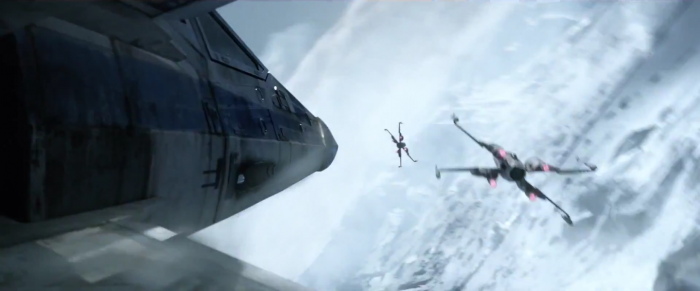 This is just a cool new shot in the aerial battle of the Resistance versus the First Order. Can't wait to see this sequence.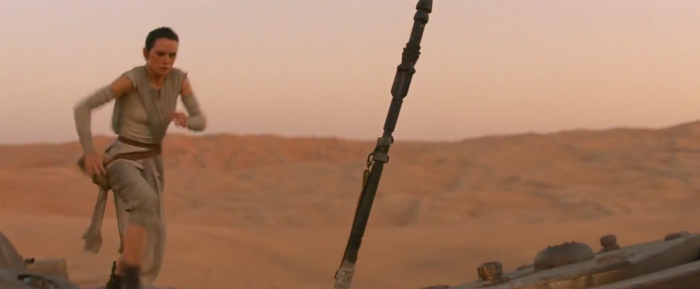 Rey is in a hurry to grab her staff and get the hell out of there. I'm pretty sure this is her AT-AT home that she's running on. Is it another shot of her running from the First Order?
Some more of Chewbacca! He looks to be on the Millennium Falcon, but that could be a different ship, I suppose. Also, I can't be sure, but I don't think we've ever seen a close-up shot of Chewbacca's hand like this before, and it's kind of strange. I never really thought he had such human hands. But he's using them to trigger an explosion (though it might not be the same one that follows in this trailer).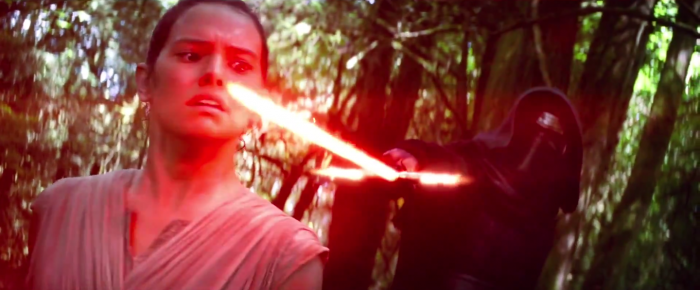 Easily the coolest shot from the new footage, Kylo Ren seems to have the upper hand here. We've seen shots in the forest before, with Rey looking up at some First Order ships flying above, but nothing like this. Also, this is daytime, so it happens before Finn ends up facing Kylo at night in the snow. Does that happen on a different part of the planet, or just another planet entirely?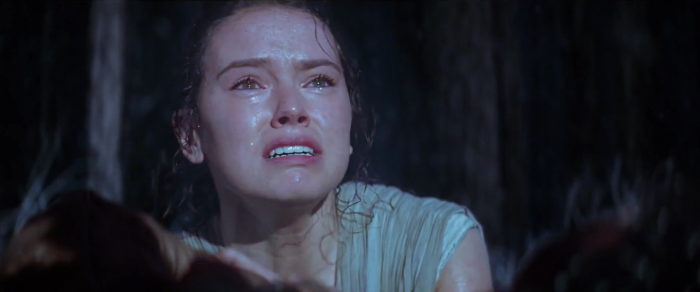 Finally, this isn't a new shot, but the voiceover is important. We hear Maz Kanata say, "Hope is not lost today. It is found." The fact that this is heard over a shot of Rey seems to further indicate that she's the new Luke Skywalker in our new batch of heroes. She's the new new hope. We've seen Finn wielding a lightsaber, but that doesn't mean he's destined to be the main hero. My money is on Rey being the Force user in this equation.
 ***
That's all for the new footage from The Force Awakens international trailer. This is likely the last large chunk of new footage we'll see from the movie, since I can't imagine TV spots giving much more away that the trailers didn't already. Just 41 days until Star Wars: The Force Awakens arrives, and we'll get to see everything.
Check out our previous breakdown of the final The Force Awakens trailer right here, the second teaser trailer right here, and the first teaser trailer right here.