Alexander Skarsgard And Paul Rudd Go 'Mute' For Duncan Jones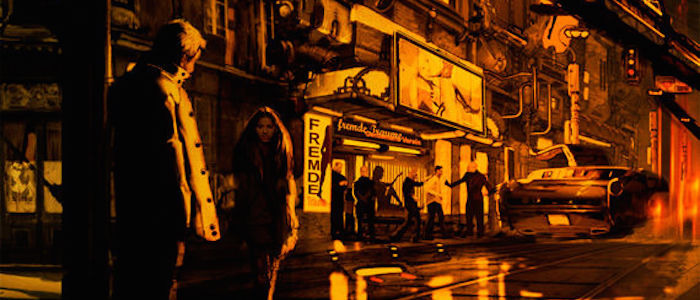 Director Duncan Jones has been talking about this science fiction film noir dream project Mute for years. Like so many passion projects, it always seemed to be just out of reach for the Moon and Source Code filmmaker, who has spent the past few years bringing Warcraft to life. With his big-budget fantasy epic nearing the homestretch, Jones can actually make Mute happen instead of just wistfully talking about it to anyone who will listen. After all, we've been using the same piece of concept art for every story about this movie for over five years. We need something new!
And now, we're getting something new. Alexander Skarsgard and Paul Rudd have joined the cast, which is the first proper, actual evidence we've had in years that this movie could become a reality. More importantly, Jones has all but confirmed what he's long teased: Mute will take place in the same universe as Moon.
The news comes out of the American Film Market (hat tip to The Playlist), where it was revealed that Skarsgard will play Leo, a mute bartender in a dystopian Berlin, and Rudd will play a mysterious American surgeon. Here's the official synopsis, which reflects the basics of Jones and Mike Johnson's screenplay:
Berlin. Forty years from today. A roiling city of immigrants, where East crashes against West in a science-fiction Casablanca. Leo Beiler (Skarsgard), a mute bartender has one reason and one reason only for living here, and she's disappeared. But when Leo's search takes him deeper into the city's underbelly, an odd pair of American surgeons (led by Rudd) seem to be the only recurring clue, and Leo can't tell if they can help, or who he should fear most.
Jones also released a statement about the film. Pardon the hyperbole – this is the kind of thing that's supposed to attract potential buyers and investors:
I've been working towards making Mute for 12 years now. I cannot tell you how thrilled I am that we're finally going to shoot this utterly unique film. The fact that I get to make it with Alexander Skarsgard and Paul Rudd makes it all the more exciting. Mute is a film that will last. It is unlike any other science fiction being made today.
And that brings us to final piece of cool news here. Jones has always said that Mute takes place in the same future world as his astonishing feature debut, Moon, which followed Sam Rockwell as the sole employee of a lunar mining station who encounters some... issues. So what are we to make of the news, straight from Jones' Twitter page, that Rockwell will be in Mute?
@empiremagazine (also have Sam Rockwell and the mighty @iamclintmansell too! Woohoo!)

— Duncan Jones (@ManMadeMoon) November 4, 2015
And Moon fans will also rejoice at Clint Mansell returning to score the film. His music for Moon may be one of the best and most evocative science fiction themes ever recorded.
Mute is still far from being a reality, but it's officially taken a few huge steps forward. As the Warcraft marketing train begins to pick up speed (the first trailer arrives on Friday), expect to start hearing a lot about this movie. There is no better way to drum up interest in your little sci-fi movie than bring it up right next to your enormous summer tentpole.