'Dirty Grandpa' Trailer: Zac Efron And Robert De Niro Party Until You're Pregnant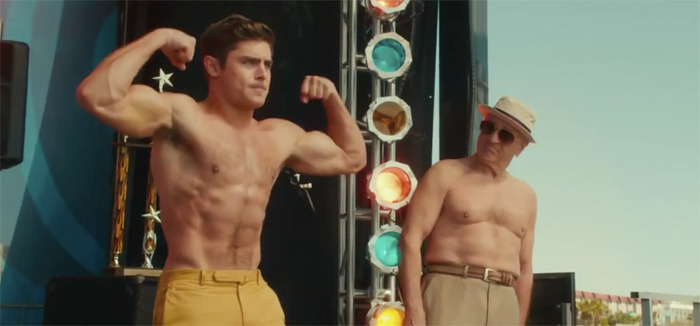 Johnny Knoxville already brought us the wild antics of Bad Grandpa with his trusty Jackass crew, preying on the clueless public with hidden cameras and prosthetic genitals. Now Robert De Niro is trying to get in the geriatric tomfoolery game with Dirty Grandpa.
The new raunchy comedy from director Dan Mazer (I Give It a Year) sees the iconic star of Taxi Driver, Raging Bull and Goodfellas as the grandfather of Zac Efron, the uptight grandson who is tricked into driving through Daytona Beach during the insanity of spring break. Now the first Dirty Grandpa trailer has arrived, delivering pretty much exactly the kind of debauchery you'd expect.
Here's the trailer for Dirty Grandpa, originally from BuzzFeed:
During this detour on the way back home to his impatient and worried fiancée (Julianne Hough of Rock of Ages), Jason (Efron) gets some not-so-grandfatherly, but potentially helpful advice from Dick (De Niro) about marrying a woman who may not be right for him at all. So of course he needs to sow his oats among all the shenanigans in Florida.
There's all the spring break partying you've come to expect from movies like this, including girls dancing in bikinis, plenty of drinking and drugs, and of course, Zac Efron shirtless. Even De Niro gets his shirt off during this wild road trip, and Plaza is being much more saucy than we've ever seen her before, though it's more than a little weird seeing her get frisky with the veteran actor.
It's basically Planes, Trains & Automobiles meets The Hangover, with De Niro as a foul-mouthed, horny and inappropriate grandpa and Efron doing the opposite of his character in Neighbors by playing the straight man who ultimately succumbs to the party. Unfortunately, it doesn't look nearly as good as any of those aforementioned comedies, even if they are driving around in a car that De Niro calls a "giant labia."
Despite the craziness this trailer shows off, it doesn't get nearly as raunchy as the movie likely will be. There are plenty of cuts away from profanity, and CG underwear has been added to Efron while he does crack with Jason Mantzoukas (Sleeping with Other People), and Aubrey Plaza (or at least a body double of the Parks and Recreation star) while she straddles De Niro in a hotel room.
Dermot Mulroney, Zoey Deutch, Adam Pally and Henry Zebrowski also co-star in the comedy which arrives early next year on January 22nd, 2016.