Watch 25 Seconds Of The New 'Star Wars: The Force Awakens' Trailer Right Now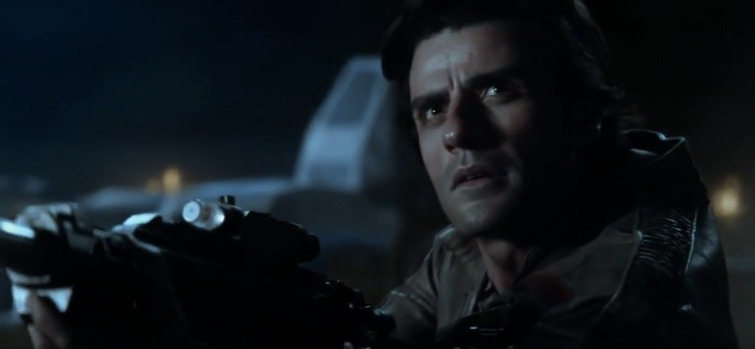 Right when the new poster for Star Wars: The Force Awakens debuted, confirmation of ticket sales, marathon events and some movie theater exclusive collectibles were announced at the same time. You can find out all you need to know on that front over here.
Along with those announcements came official confirmation that the new trailer would arrive during Monday Night Football on ESPN tomorrow evening. And today Disney is teasing the arrival of the trailer around their various networks with some brief snippets from the trailer, and you can see some of The Force Awakens trailer footage below!
Thanks to reader Ben Hower on Twitter for alerting us to this tease:
And here's the 15-second one from JoBlo:
Here's yet another 15-second teaser from the trailer:
As you can see, we get a few new shots of Rey (Daisy Ridley), Finn (John Boyega) and Poe Dameron (Oscar Isaac), along with an old shot of BB-8 from the most recent teaser trailer. Meanwhile, the other teaser uses another shot of Rey from that same teaser, but shows us what she's looking at, some First Order TIE Fighters and drop ships flying through the air. But what planet is she on? Where is this action taking place? Maybe the trailer tomorrow will provide some hints.
Then that third one offers up a couple new things we haven't seen in movie form, including Poe Dameron and Finn on screen together for the first time, along with the former's orange and black X-Wing. That's quite the meaningful gaze they share.
This morning, the press release for the poster has confirmed the new trailer will play during halftime in the game between the New York Giants and Philadelphia Eagles. The game starts at 8:15pm Eastern/5:15pm Pacific, so be sure to tune in to catch the trailer as soon as it airs. Once it's online we'll post it immediately.
However, we might be getting more footage from the trailer before the premiere. Good Morning America posted an update on Twitter this morning that has since been deleted, but here's the tweet in question: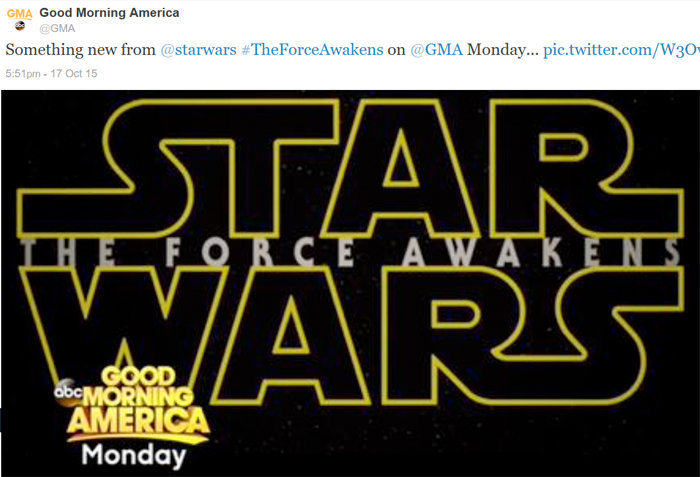 Now Good Morning America is just promoting the trailer arrival on ESPN, so maybe they jumped the gun on teasing whatever they have in store for tomorrow. Just to be safe, fans might want to tune in to Good Morning America to see even more footage from The Force Awakens. But personally, I'm going to wait until the full trailer arrives tomorrow evening.
Once the trailer arrives, there's going to be even more excitement surrounding Star Wars: The Force Awakens. And as soon as we get a chance to watch the trailer dozens of times, we'll have a trailer breakdown put together as well.