Star Wars Bits: Force Awakens Artwork & Toys, John Boyega, Rebels, Boba Fett And More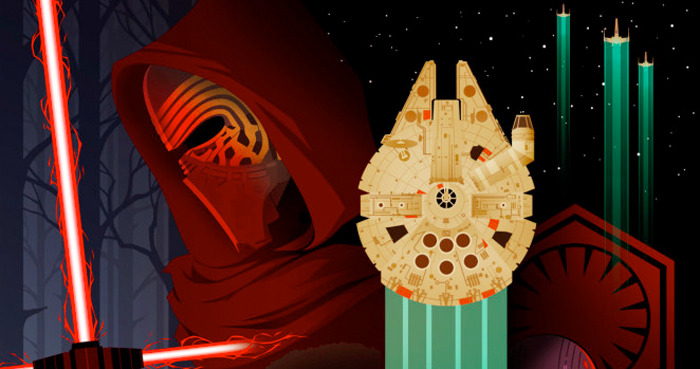 Luke, you can destroy the Emperor. He has foreseen this. It is your destiny. Join me, and together we can rule Star Wars Bits as father and son. This edition of news from a galaxy far, far away includes:
John Boyega on getting the part of Finn, advice from Robert Downey Jr. and racism
Dave Filoni on Star Wars Rebels Season 2 crossing over into and live-action territory
Does BB-8's name have ties to Beastie Boys too?
Artwork preview from The Art Awakens contest
Star Wars Rebels additions to the Star Wars App
Who is voicing Boba Fett in Star Wars Battlefront?
Header image: Artwork from The Art Awakens contest. See more below!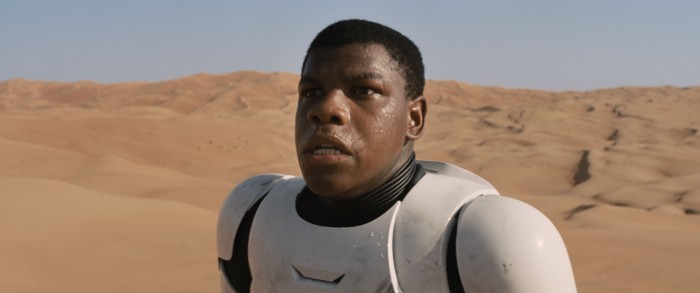 When you get a part in a huge movie franchise like Star Wars, it completely changes your life. John Boyega will be going from a mostly unknown actor to one of the most recognizable faces in the world, and in order to deal with that drastic change in his life, he's been getting some advice from another Disney franchise face, Robert Downey Jr:
He's helped me prepare for how my life is going to change and that has been inspiring. I'm talking to someone who understands the power of choices, both positive and negative.
Boyega revealed this to V Magazine (via THR) along with this quote about how he landed the role:
There was already contact between me and J.J. He was a big fan of Attack the Block and we were waiting for a project where we could collaborate. They wanted to make sure they got the right person for the job. I learned that I got the part over a nice breakfast in Mayfair. J.J. said, 'John, you're the new star of Star Wars,' and everything froze for a moment.
With advice from Downey and a role in one of the biggest franchises of all time, Boyega is going to be just fine. Also, if you think you've got Finn's role in The Force Awakens all figured out, think again. The actor said:
J.J. will send me YouTube clips of fans reacting to things online and it's funny. The fans have no idea. It's great they are talking, but nobody has a clue.
Boyega also isn't backing down from all the racist backlash that came with his being the first black Stormtrooper that we know of in the Star Wars universe, and actually the first character we saw in the first The Force Awakens teaser. Boyega called it "unnecessary," and went on:
I'm in the movie, what are you going to do about it? You either enjoy it or you don't. I'm not saying get used to the future, but what is already happening. People of color and women are increasingly being shown on-screen. For things to be whitewashed just doesn't make sense.
Hard to argue with that sentiment.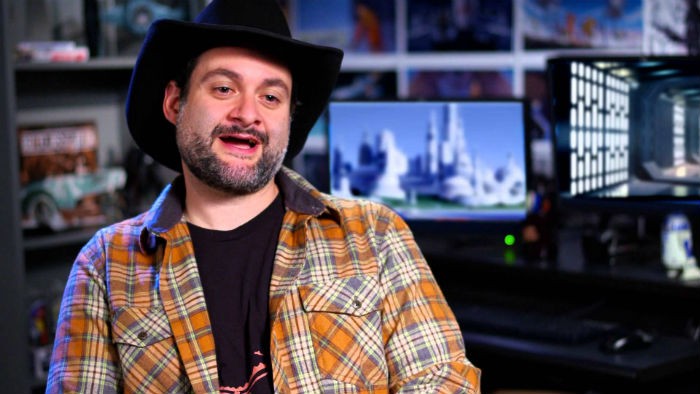 Star Wars Rebels showrunner Dave Filoni appeared at New York Comic-Con (via ScreenRant) and again addressed the idea of characters from Star Wars Rebels crossing over into the live-action universe, and how the animated show affects what happens in the movies:
Everything affects each other as far as their time period is concerned and as far as you think it would echo out – if it makes sense. If someone down the line is creating a story in another medium, it doesn't have to be a film, and you say 'Okay, this is a rebellion story and they have a secret agent for the Rebels leaking information,' the story group is going to say 'We have that and we call them Fulcrum here – now does it make sense to call them Fulcrum there?' What's great is we now have a group of people who are fully aware of all the continuities, so they can reach out to the different creatives and keep them in line.
If there was a movie that was very close to the time period that I was doing, we would be in constant contact. I've met all the directors of all the films and talked with them and it's fun. A lot of that we just do politely but sometimes we talk creatively – because it's Star Wars. We're all fans of it, we all grew up with it. This whole generation of lead creatives grew up with Star Wars, so we all just have it in common. The important thing is the story group binds us together and keeps continuity straight. Could it affect the films? Sure. Could the films affect us? Sure. But it works all directions and even the comic books and video games. The best thing I can say about it is that it's an effort by people who love Star Wars and try to make it all great, all go together.
I wouldn't count on seeing any interaction between Star Wars Rebels and the new film trilogy anytime soon, but this new cohesive Star Wars canon certainly does make the universe a little more interesting. If you want to hear more from Filoni about what's coming up on the second season of Star Wars Rebels, hit up this interview over at Geeks of Doom. Filoni also said this about the very end of the second season:
None of the actors have no idea what happens in the last five minutes of the season two finale. Dave says they will find out with everyone

— Rebels Report (@RebelsReport) October 8, 2015
Just recently we learned that a new alien character from Star Wars: The Force Awakens seems to have ties to the Beastie Boys, but is there a chance that one of the most popular new characters also has a name inspired by the hip-hop trio? BB-8 is said to have been named by J.J. Abrams as the director has said:
I named him BB-8 because it was almost onomatopoeia. It was sort of how he looked to me, with the 8, obviously, and then the two B's.
That makes sense, but others have pointed out that BB also happens to be the initials of Beastie Boys, and the group just so happens to have released eight total albums. That's probably just a coincidence, but it's still a fun one. [StarWars7News.com]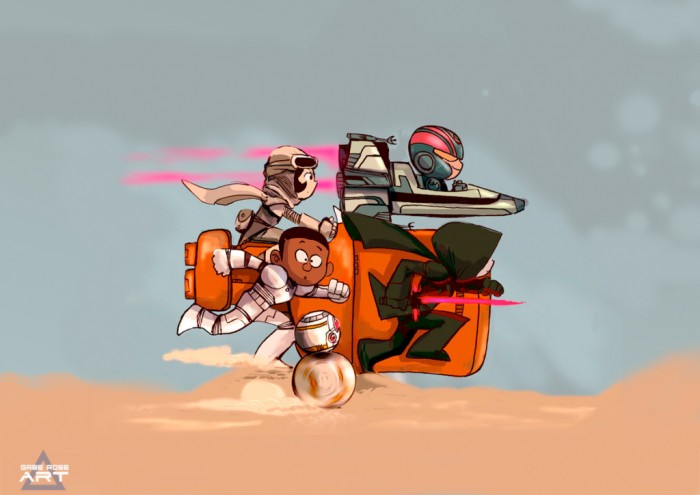 The Art Awakens program from Lucasfilm and HP is almost over, and StarWars.com has featured some of their favorite pieces inspired by the limited amount of footage we've seen from Star Wars: The Force Awakens so far:
We'll get to see more of these after the winners from the contest are chosen.
Han Solo loves bragging about how fast the Millennium Falcon is, including how it made the Kessel Run in less than 12 parsecs. Many have assumed that makes his ship the fastest in the galaxy. But in one of the running Star Wars comics, we learn that's not the case. In fact, if you read the panels above, you'll see that the fastest ship in the galaxy belongs to Sana Solo, his wife. It's called the Volt Cobra, and I'm betting it's a sore spot for ole Han. [Bleeding Cool]
Some new images of forthcoming Star Wars: The Force Awakens toys have arrived after being unveiled at New York Comic-Con. Below you'll find the images of the new 6-inch Black Series figures coming, including our first look at the new Han Solo action figure and First Order Snowtrooper pictured above:
If you want to see more toys, including the 12-inch figures and Micro Machines, head to NerdApproved.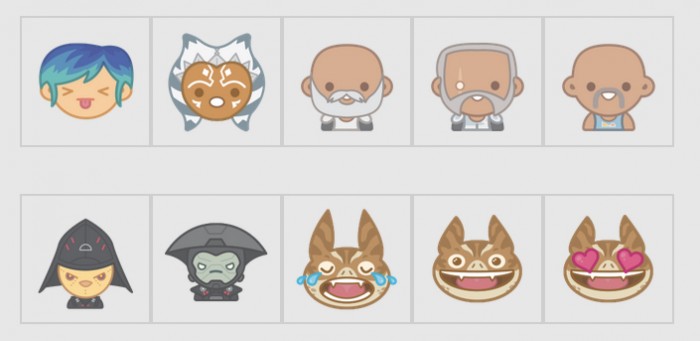 Some new additions have appeared on the Star Wars App in honor of Star Wars Rebels making a splash at New York Comic-Con this week. The above emojis, created in honor of the characters from the Disney XD animated series, can be used in the selfie section of the app right now. [StarWars.com]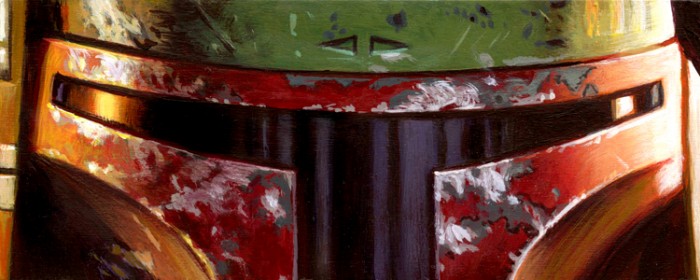 Some sound files of Boba Fett in the forthcoming video game Star Wars Battlefront seem to indicate that Attack of the Clones star Temuera Morrison is lending his voice to the bounty hunter. Morrison was Jango Fett and all the Clone Troopers in Attack of the Clones, and his voice was used to dub over the original lines of Boba Fett in The Empire Strikes Back when it was re-released on Blu-Ray and DVD. If you want to hear for yourself, head over to MakingStarWars.net for the audio.