Cool Stuff: Threadless Reveals 'Back To The Future' T-Shirt Collection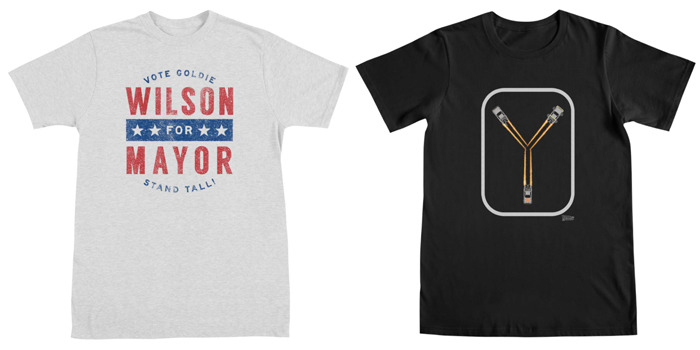 The love for Back to the Future is in full swing, and if you're looking forward to celebrating all the good stuff that's on the way for Back to the Future Day on October 21st, but you need some cool new threads to show your love for the time traveling franchise, we have good news.
Threadless has just unveiled a Back to the Future t-shirt collection with 21 new, original shirts from a variety of artists. Some of them are simple tributes to the movies while others get a little more creative with their imagery. But the good news is you can buy them all right now.
Here's all 21 of the t-shirts available at Threadless right now:
My personal favorites are the two we used in the header image. The Goldie Wilson campaign shirt is very simple, has just the right amount of faux vintage fade, and it's one of those shirts that someone would have to be a huge Back to the Future fan to understand. Those are my favorite kind of pop culture shirts.
Meanwhile, that flux capacitor design seems pretty average upon first inspection, but then you see that each line of the flux capacitor is one of the three different DeLoreans going back in time, leaving a fire trail behind to form the shape of the device that makes time travel possible.
There's bound to be some more cool shirts on the way to celebrate Back to the Future, but this is a pretty cool collection to get us started. However, if there are any fans of Back to the Future who also happen to love the Adult Swim series Rick and Morty, then you'll want to swing over to the t-shirt fanatics at TeeFury to pick up this awesome t-shirt that I've been sporting for about a month or so.
Check out our definitive Back to the Future anniversary guide over here for more.