Jeremy Saulnier's Brilliant 'Green Room' Gets A 2016 Release Date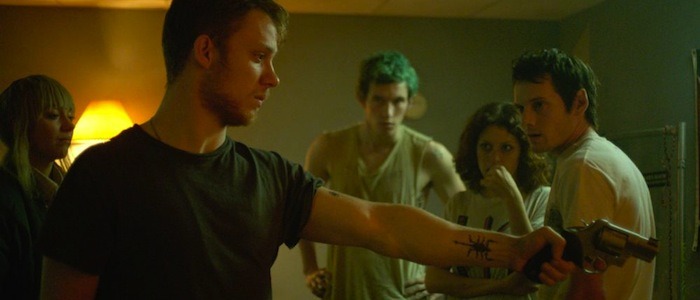 Jeremy Saulnier's Green Room is the cinematic equivalent of getting your face bashed in. In a good way, of course. This take-no-prisoners thriller has been making the festival rounds throughout 2015, sucker-punching unsuspecting audiences from Cannes to Toronto. It's a mad and brilliant movie... and it's already been picked up by A24, who have officially given this gruesome instant-gem a release date.
For details on the Green Room release date, hit the jump!
A24 has announced that Green Room will first arrive in limited release on April 1, 2016 before expanding nationwide on April 15, 2016. We don't know if that that April Fools' Day opening is by accident or design, but it's a delightful choice. After all, this movie does play like a big sick joke, where everything that can go wrong for its characters does eventually go hideously, hilariously wrong.
For those who haven't been following Green Room, here's the basic gist: a down-on-their-luck punk band (which includes the likes of Anton Yelchin and Alia Shawkat) accepts the wrong gig at the wrong club in the middle of nowhere and witnesses a murder committed by a gang of white supremacists. The group, which now includes a third-party bystander with a dark past (Imogen Poots), barricades itself in the club's green room. And thus the film becomes a siege thriller, with our clueless, inept heroes defending themselves against a terrifying crew of killers. Yes, this is the Punk Rockers versus Neo-Nazis movie you never knew you wanted.
Oh, and the leader of the white supremacists is played by Sir Patrick Stewart, just in case you needed another reason to seek this thing out.
I was lucky enough to catch Green Room at Fantastic Fest in Austin, Texas, where the film walked away with the Audience Award and a bunch of well-deserved buzz. This is a movie that deserves to be seen with a crowd. It's lean and mean and totally vicious, unafraid to zig when it should be zagging. No one is safe in this movie and the violence is unreal. Green Room is thriller by definition, but it's going to make even some hardened horror aficionados a little queasy.
Those who saw Saulnier's previous film, Blue Ruin, know that this guy is something special. Not since David Fincher have we been blessed with such a black-hearted, confident and wickedly entertaining director. His technical precision is matched only by his command of tension and tone. Like Blue Ruin, Green Room forces its characters into such intense and terrifying situations that you can only laugh. His ability to mine comedy from sheer horror is remarkable.
You can get a tiny taste of what to expect in this clip that was released a little while back. A trailer is expected to arrive soon.
So yeah, put Green Room on your calendar and be sure to check it out when it arrives in April of 2016. Between this and The Witch (which arrives on February 26, 2015), A24 is already positioning itself as the distributor of two of 2016's best movies.
Here's the official synopsis for Green Room:
Green Room is a brilliantly crafted and wickedly fun horror-thriller starring Patrick Stewart as a diabolical club owner who squares off against an unsuspecting but resilient young punk band.
Down on their luck punk rockers The Ain't Rights are finishing up a long and unsuccessful tour, and are about to call it quits when they get an unexpected booking at an isolated, run-down club deep in the backwoods of Oregon.  What seems merely to be a third-rate gig escalates into something much more sinister when they witness an act of violence backstage that they weren't meant to see.  Now trapped backstage, they must face off against the club's depraved owner, Darcy Banker (Stewart), a man who will do anything to protect the secrets of his nefarious enterprise.  But while Darcy and his henchmen think the band will be easy to get rid of, The Ain't Rights prove themselves much more cunning and capable than anyone expected, turning the tables on their unsuspecting captors and setting the stage for the ultimate life-or-death showdown.
Intense, emotional, and ingeniously twisted, Green Room is genre filmmaking at its best and most original. Saulnier continues to build his reputation as one of the most exciting and distinctive directors working today, with a movie that's completely different from his previous, highly acclaimed Blue Ruin, but which is just as risk-taking and even more full of twists. The entire cast deliver first-rate performances, but Patrick Stewart gives a transformative and brilliantly  devious turn as Darcy—elegant yet lethal, droll yet terrifying, Stewart makes the film simply unforgettable.