Rumor: Warner Bros. Wants More Batman, Less Superman In 'Batman V Superman'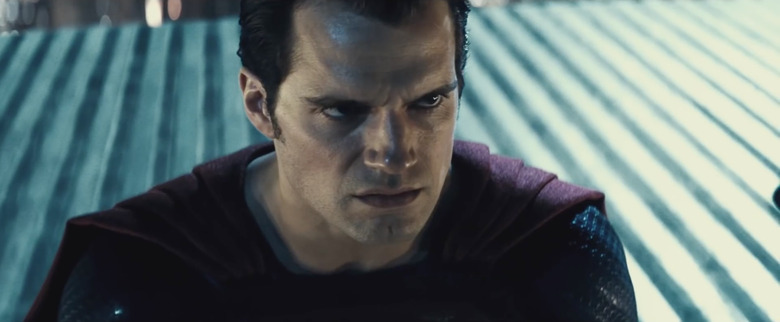 Before Ben Affleck was officially locked down to direct, co-write and star in his own solo Batman movie at Warner Bros., the story started as a rumor following a test screening of Batman v Superman: Dawn of Justice attended by the film's crew and studio executives.
While the reaction to the screening was reportedly overwhelmingly positive, a new rumor says Warner Bros. now wants to make some changes. Supposedly the studio thinks that Batman v Superman needs more of Ben Affleck as Batman in the movie and less of Henry Cavill as Superman. Why? Well, the reasoning is that Affleck is blowing Cavill off the screen, so they think more of The Dark Knight will only help the movie. Details on Batman v Superman adding more Batman to the flick below!
Heroic Hollywood is behind this latest rumor, which could potentially be a little worrisome. Sure, there are plenty of changes made later in production as a movie starts to take shape in the editing room, but how much more Batman can they add to the film without drastically changing the dynamic of the movie and any plans they had to follow with the rest of the DC universe?
It's no secret that Batman has been much more popular than Superman on the big screen in recent years, so it's not exactly surprising that Warner Bros. wants to give Affleck more screentime as the Caped Crusader. After all, there's been rumors of an entire trilogy following Affleck as Batman, so clearly executives love what the actor is bringing to the table as the superhero.
But considering the fact that this new DC Comics cinematic universe started with Superman in Man of Steel, pushing him to the side seems a little odd and almost disrespectful, even if it makes sense from a business standpoint. I just hope that it makes sense story-wise and doesn't taint the fact that this is supposed to be a Batman v Superman movie, and not just a new Batman showcase for Ben Affleck.
This rumor does come at a time when we've heard rumors of Man of Steel 2 being put on "permanent hold," even with Mad Max: Fury Road helmer George Miller also being rumored to direct, so that does add more fuel to the fire that Superman may take a backseat to Batman in this expanding comic book universe on the big screen.
With six months to go, Warner Bros. and director Zack Snyder have plenty of time to give Batman more screentime without scrambling to make it happen, but if it's happening this late in the game, hopefully more Batman scenes won't feel tacked on and take away from what already sounded like a solid comic book movie. Stay tuned for more.