'Star Wars: The Force Awakens' Opening Earlier In France And UK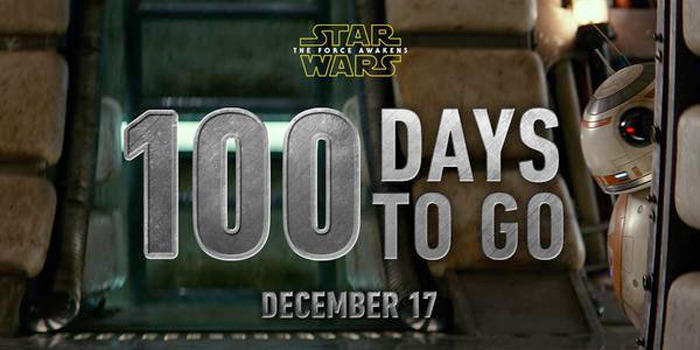 Because of time zones and staggered release patterns, our friends over in Europe often get to see some of the biggest releases before we do in the United States. In fact, in the case of Marvel Studios' productions or James Bond movies, they get to see them a few days earlier. Now, it sounds like Disney is doing the same thing with Star Wars: The Force Awakens.
The Force Awakens UK release date has been confirmed to be December 17th while the release date in France will actually be a bit earlier on December 16th. So now is the time to get a plane ticket to see the film as soon as possible.BBC confirmed the two earlier European release dates after the official Star Wars Facebook page in the United Kingdom made a post this morning about the film being 100 days away. And those who did some quick math realized that the film would arrive a day earlier than the December 18th release date we've known about for quite some time now.
However, before any passionate fans get bent out of shape, it's important to note that we likely won't have to wait until December 18th to see the film in the United States either. That's because blockbuster movies rarely do midnight debuts anymore, with most theater chains having some kind of 7pm or 8pm screening the day before the wide release.
So I'm willing to bet that fans here in the United States will get to see The Force Awakens on the evening of December 17th. But we likely won't get to see it as far in advance as France will be able to feel the Force.
Does that mean The Force Awakens score will be made available earlier in Europe too? We recently learned it wouldn't be released until December 18th to coincide with the release of the film, but with earlier release dates now confirmed, maybe it will be released earlier elsewhere.
But the biggest question that fans still have is whether or not there will be some kind of marathon event leading up to the release of Star Wars: The Force Awakens. The original Star Wars trilogy hasn't been given a wide theatrical re-release since the Special Edition trilogy debuted in 1997, and if there ever was a time to bring it back to theaters, it's before The Force Awakens debuts. Hopefully there will be some kind of announcement for Star Wars marathons this fall.
The only problem is that a marathon event likely means that we have to endure the prequels in theaters too, but some sacrifices have to be made. Plus, it will be a little disappointing that a marathon event would likely mean we'll be seeing the Special Edition of the original Star Wars trilogy, but that's just something we'll have to deal with for the time being. Hopefully one day the original cuts will be made available in high-definition to please fans. We'll just have to be patient.