David Ayer Shares 'Suicide Squad' Wrap Photo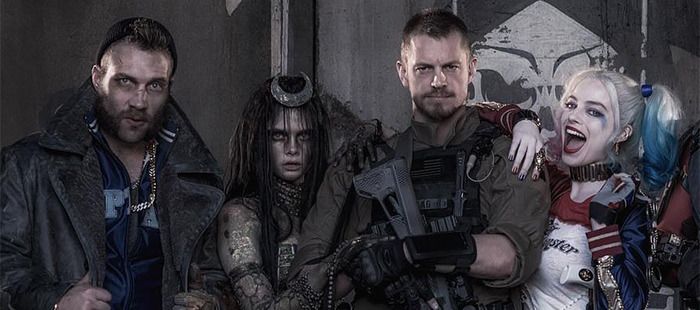 Following Margot Robbie and Jai Courtney's charity lemonade outing and Jared Leto's post-Joker haircut, director David Ayer has officially announced the end of principal photography on Suicide Squad. To mark the occasion, he shared a photo of over 100 members of the cast and crew. See it after the jump. 
Ayer shared the Suicide Squad wrap photo on Twitter, of course.
It's a wrap folks! #SuicideSquad #WarnerBros #DCcomics pic.twitter.com/1Rkvd9t3JX

— David Ayer (@DavidAyerMovies) August 28, 2015
There are some interesting things to notice if you look closely, like the fact that there are multiple Killer Crocs and Harley Quinns. (And that one of those Harley Quinns is pointing a gun at her own head.) But my favorite random detail is the unidentified guy checking his watch, like he just cannot be bothered with this stupid class photo. Hey, he's probably been working on this movie for months. He just wants to get out and spend time with his family.
Meanwhile, the cast of Suicide Squad was getting downright sentimental on Instagram.
Right now #skwad pic.twitter.com/mdJyxWvPar

— David Ayer (@DavidAyerMovies) August 28, 2015

Suicide Squad ostensibly centers on a group of supervillains recruited / forced to work as black-ops agents for the government in exchange for clemency. Based on these photos, though, the Suicide Squad shoot looks more like summer camp – right down to the cuddly last-night bonfire. But don't cry, kids. Movie shoots may be temporary, but misspelled tattoos are forever.
Based on the comics by John Ostrander, Suicide Squad stars Viola Davis as Amanda Waller, Jared Leto as the Joker, Margot Robbie as Harley Quinn, Will Smith as Deadshot, Joel Kinnaman as Rick Flagg, Jai Courtney as Captain Boomerang, Cara Delevingne as Enchantress, Karen Fukuhara as Katana, Adewale Akinnuoye-Agbaje as Killer Croc, Jay Hernandez as El Diablo, Adam Beach as Slipknot, and Ben Affleck as Batman, plus Scott Eastwood, Ike Barinholtz, Jim Parrack, and Common.
Warner Bros. has Suicide Squad in theaters August 5, 2016.