Armie Hammer Joining Jake Gyllenhaal And Amy Adams In 'Nocturnal Animals'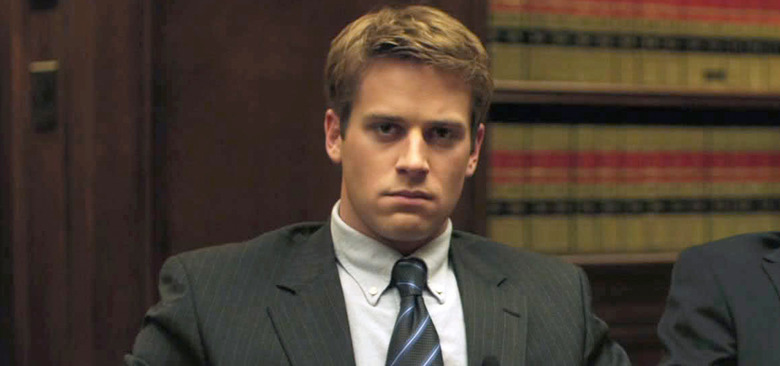 After becoming a 1960s Russian spy in The Man from U.N.C.L.E. earlier this year, Armie Hammer joining Nocturnal Animals, a dramatic tale of a story within a story that is the next film from A Single Man director Tom Ford.
Focus Features is behind the production based on Austin Wright's novel Tony and Susan, and Hammer has a key role in the that focuses on a woman (Amy Adams) who receives a book manuscript from her ex-husband, a man whom she left 20 years earlier, asking for her opinion. And then things take an interesting turn.
Here's the synopsis of the story:
Fifteen years ago, Susan Morrow left her first husband Edward Sheffield, an unpublished writer. Now, she's enduring middle class suburbia as a doctor's wife, when out of the blue she receives a package containing the manuscript of her ex-husband's first novel. He writes asking her to read the book; she was always his best critic, he says.
As Susan reads, she is drawn into the fictional life of Tony Hastings, a math professor driving his family to their summer house in Maine. And as we read with her, we too become lost in Sheffield's thriller. As the Hastings' ordinary, civilized lives are disastrously, violently sent off course, Susan is plunged back into the past, forced to confront the darkness that inhabits her, and driven to name the fear that gnaws at her future and will change her life.
The synopsis actually reminds me of the short story "Continuity of Parks" by Julio Cortázar, which also weaves one story of a man reading a novel into the story of the novel that the character is reading. But in that short story, the man at the center of the tale ends up being part of the story himself. And I'm not sure that will end up happening in Nocturnal Animals (the movie, not the book in the movie).
So what's Hammer's role in this? THR reports he will be playing Adams' husband. And I think that means her current husband, not her ex-husband who is giving her the manuscript, but I can't be sure. The rest of the cast includes Jake Gyllenhaal, Aaron Taylor-Johnson, Michael Shannon and Kim Basinger, so this should be quite the compelling drama.
Production is slated to begin this fall and the film will likely end up hitting theaters sometime in 2016. Considering how good Ford's directorial debut was with A Single Man, I'm anxious to see what he does with his sophomore effort behind the camera.