'The Martian' Promo Video: Neil deGrasse Tyson Examines The Ares 3 Mission To Mars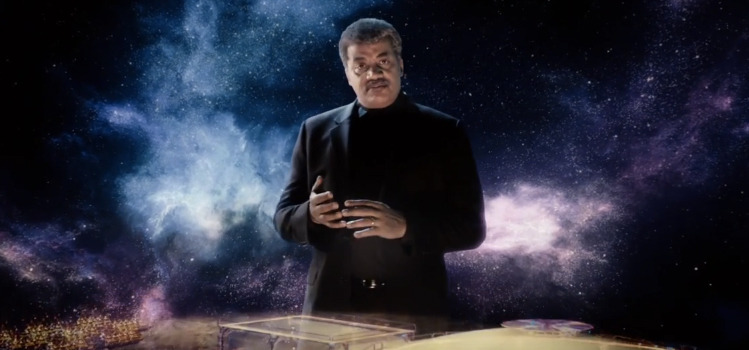 There are plenty of people who are already sold on The Martian, the latest sci-fi drama from Ridley Scott. It's one of our 30 Movies to Be Excited for Before the End of 2015, and the most recent trailer really showed how good it looks.
But 20th Century Fox still has a little over a month to go before the film hits theaters, and they're continuing their impressive viral marketing campaign with yet another cool video focusing on the crew of the Ares 3, another manned mission to the surface of Mars. This time, famed astrophysicist Neil deGrasse Tyson examines the upcoming mission in the style of the recent Cosmos: A Spacetime Odyssey series.
Watch The Martian Neil deGrasse Tyson video after the jump!
Aside from examining the Ares 3 mission on which the movie The Martian is focused, Tyson also gives us some information about the world in which the story exists. For example, the first manned mission to Mars happened back in 2029, and Hermes is the space station orbiting around Earth that will take the crew to Mars.
If it wasn't for the fact that the crew of the Ares 3 is composed of famous actors like Matt Damon, Jessica Chastain, Kate Mara and more, someone might actually believe that this is a real video talking about an actual mission to Mars. Between this and the previous interviews with the crew after isolation training and the viral video from the Hermes with the crew on board, The Martian has one of the best viral marketing campaigns in recent memory, maybe the best since The Dark Knight.
Don't forget, The Martian has moved up to an earlier release date on October 2nd, and you can watch the most recent trailer for the movie right here. Stay tuned for anymore cool viral marketing updates.
During a manned mission to Mars, Astronaut Mark Watney (Matt Damon) is presumed dead after a fierce storm and left behind by his crew. But Watney has survived and finds himself stranded and alone on the hostile planet. With only meager supplies, he must draw upon his ingenuity, wit and spirit to subsist and find a way to signal to Earth that he is alive. Millions of miles away, NASA and a team of international scientists work tirelessly to bring "the Martian" home, while his crewmates concurrently plot a daring, if not impossible, rescue mission. As these stories of incredible bravery unfold, the world comes together to root for Watney's safe return. Based on a best-selling novel, and helmed by master director Ridley Scott, THE MARTIAN features a star studded cast that includes Jessica Chastain, Kristen Wiig, Kate Mara, Michael Pena, Jeff Daniels, Chiwetel Ejiofor, and Donald Glover.