VFX Breakdown Shows Imagine Engine's Impressive Visual Effects Work On 'Chappie'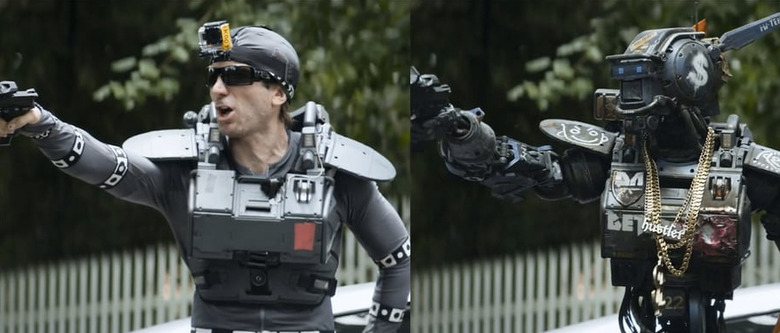 Earlier this summer, we featured a very brief look at the visual effects that helped bring Neill Blomkamp's futuristic fairytale Chappie to life. A live performance on set was done with Sharlto Copley (District 9), and then the actor was replaced entirely with visual effects, and now we get to see just how perfectly the effects mirror Copley's performance.
Watch the Chappie visual effects breakdown after the jump!
Here's Imagine Engine's Chappie reel (via FirstShowing.net):
Even more impressive than the stunning work done to create Chappie himself is the visual effects that were needed outside of the actual robot effect. For example, when Ninja puts all those gold chains on Chappie, he's not even holding anything in his hands. The necklaces are all created digitally, and they look completely, seamlessly convincing.
It's also mesmerizing to see how closely the final version of the robot matches each and every bit of movement done by Copley, even though this isn't done like a motion-capture performance in Avatar or Dawn of the Planet of the Apes. There's a shot with Copley done, and a shot without him, and the two are combined with visual effects in order to make Chappie come to life.
Imagine Engine is a Vancouver based visual effects house, and you've undoubtedly seen plenty of other impressive work from them as they've also been responsible for creating the effects of the Teenage Mutant Ninja Turtles reboot, not to mention this summer's blockbusters Jurassic World and San Andreas.
If you think you might have what it takes to create some of these visual effects for Imagine Engine, they have some job openings right now. So head over to their website and see if you're qualified to help make movies. You could be making your own dinosaurs and robots on the big screen.