Not A Joke: Dolph Lundgren Is Shooting 'Kindergarten Cop 2' Right Now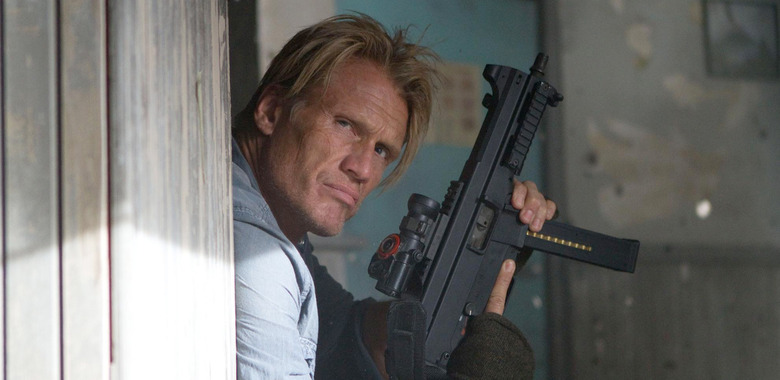 Don't bother checking your calendar, because it's not April Fools' Day. But even knowing that, if someone told me that there was a Kindergarten Cop 2 on the way starring Dolph Lundgren, I simply wouldn't believe them, because it sounds so ridiculous.
But then again, after a couple seconds and reconsideration, I would probably end up believing them, because it sounds so ridiculous. Plus, there are actually some set photos to back up news that The Expendables franchise, Masters of the Universe and Rocky IV star is currently shooting a sequel to Arnold Schwarzenegger's comedic action thriller from 1990.
We won't post the photos that have surfaced online here, but if you really need proof that this movie is happening, you can see them at a website appropriately called Manly Movies. But thankfully, we do have a basic idea of what Kindergarten Cop 2 will be about.
In the sequel, which is almost guaranteed to go straight to home video, Lundgren plays a cop who has to go undercover as a kindergarten teacher (whoa, slow down!), but this time he's looking for a missing flash drive from the Federal Witness protection program. More than likely someone is trying to get their hands on the flash drive to find out where someone is in hiding, and it's up to Mr. Lundgren to protect them.
But Lundgren won't be alone, because he'll have an Indian sidekick named Sanjit, helping him against the bad guys, who have been succinctly described as Albanians. Sounds like the making of comedy gold right there.
And in case you need anymore evidence that this will just be a straight to home video sequel, it's directed by Michael Don Paul, who was previously behind the camera for the non-theatrical sequel Jarhead 2. As for the script, it comes from David H. Steinberg, who last delivered the comedy sequel American Pie 2, the weakest of the teen sex comedy franchise (though we're not counting all the straight to DVD sequels under the "American Pie presents" banner).
I'm not gonna lie, as much as I rolled my eyes when learning about this news, there's a part of me that's curious to see how Lundgren handles this kind of movie. However, that's exactly what the producers want so they can make some money. Maybe I would be more interested if it was a little more prominent of a sequel with better filmmaking talent on board, or if Schwarzenegger himself was doing this nostalgic cash grab. But otherwise, I might use a free Redbox rental for this one or something like that.
Anyone out there want to see Kindergarten Cop 2 with Dolph Lundgren?