'Project Greenlight' Trailer: Ben Affleck & Matt Damon Bring Back The HBO Filmmaking Series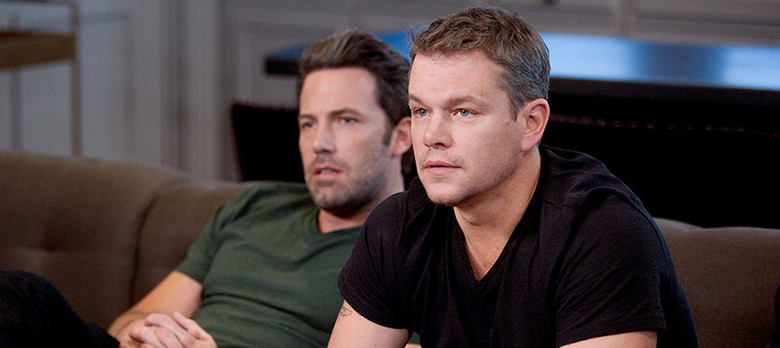 Update From Editor Peter Sciretta: HBO has finally released a full trailer for Project Greenlight, which begins airing September 13th 2015 at 10:00pm. Hit the jump to watch the new Project Greenlight trailer.
Project Greenlight Trailer
Ethan Anderton's original story from August 9th 2015 follows:
Nearly 15 years ago, HBO brought the documentary filmmaking series Project Greenlight to television, following a first-time screenwriter and director who are selected to make a feature film, all while the cameras chronicle the challenges of the film industry. The series ran for a few seasons, eventually jumping over to Bravo, but then it never came back.
Now executive producers Ben Affleck and Matt Damon are bringing back the series at a time when digital filmmaking tools have made the pool of prospective talent much bigger, and the opportunity to make a feature film a bit cheaper. The series returns to HBO after 10 years and the first teaser has just surfaced.
Watch the Project Greenlight teaser below!
Here's the teaser for the new season of Project Greenlight from HBO:
As Affleck said previously, Project Greenlight is a much more viable way of finding new filmmaking talent now:
"Project Greenlight'was ahead of its time. Now that technology has caught up to the concept, we thought it was a perfect time to bring it back. A whole new generation of filmmakers has grown up sharing everything, and the next big director could be just an upload away. It is really great having 'Project Greenlight' back at HBO."
Damon echoed his sentiments and added:
"Project Greenlight works – careers have been launched and sustained as a direct result of this contest. Pete Jones, John Gulager, Patrick Melton and Marcus Dunstan are just a few of the PGL alums who've gone on to do great things in Hollywood, and Ben and I are really proud of that."
As someone who was fascinated with the first iteration of the show, I can't wait to see how it goes this time, in a world when digital filmmaking has made production much easier, allowing for much more possibilities with a low budget film. Though I will say that I'm nonplussed by having the Farrelly Brothers as mentors on this new iteration of the show.
The finalists were selected and voted on last year, and the winner is shown in the teaser proving to be a little difficult to deal with in the production process. We'll see how it plays out when the new season begins on September 13th.
Project Greenlight is a documentary series about filmmaking from executive producers Matt Damon and Ben Affleck. Starting with a digital competition on July 24, the series will be a revealing and uncensored look at the challenges facing a first-time director as cameras roll from pre-production and casting through principal photography and post-production.