Bill Hader Joining 'Brooklyn Nine-Nine' Season Three As The New Captain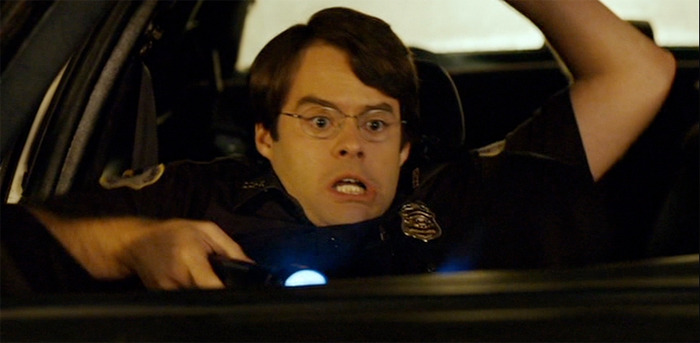 Right now you can catch Saturday Night Live veteran Bill Hader as the love interest of Amy Schumer in her hilarious summer comedy Trainwreck from director Judd Apatow. But this fall, he'll be returning to the small screen with one of his fellow SNL pals.
Hader will be the new captain in the third season of Brooklyn Nine-Nine, the Fox comedy series focusing on a New York City police precinct that counts Andy Samberg, Stephanie Beatriz,  Melissa Fumero, Joe LoTruglio, Terry Crews, Chelsea Peretti and the scene-stealing Andre Braugher among its ranks. Find out more about Bill Hader joining Brooklyn Nine-Nine after the jump!
Entertainment Weekly reports Hader will at least be guest starring in the third season premiere on September 27th, but they haven't revealed whether or not he'll be sticking around for a few episodes. But the precinct's former boss, Captain Holt (Braugher), was just recently forced into taking a public relations post for the NYPD, thanks to his rival, Deputy Chief Wuntch (Kyra Sedgwick). So it's hard to say how long he'll be kept away from the Nine-Nine.
Considering Andre Braugher has been the captain of the precinct for two seasons, the goal will likely eventually be to get him back to his post, but having Hader around for at least a few episodes would be a lot of fun, if only to shake things up for a bit. But more often than not, guest starts usually are only around for premiere episodes in order to get a bunch of people to tune in and hopefully keep coming back for more of the same.
Hader isn't the only guest star who will be popping up on the Fox series this season. In fact, in the episode following the season premiere, The Good Wife star Archie Panjabi will be stopping by as Lieutenant Knox, an officer who shows an interest in Jake Peralta's (Samberg) right-hand man and best friend, Detective Charles Boyle (LoTruglio). It also remains to be seen if Panjabi will recur on the show after her guest appearance in the October 4th episode.
Brooklyn Nine-Nine is one of my favorite comedies on television right now, with an ensemble cast that works magnificently together and has the right blend of Samberg's silly comedy with some great subtle work thanks to the talents of Andre Braugher. If you haven't given the show a shot, I'd recommend catching up before the third season begins.Brooklyn Nine-Nine returns on September 27th at 8:30pm Eastern on Fox.