'The Intern' Trailer: Anne Hathaway And Robert De Niro Need Each Other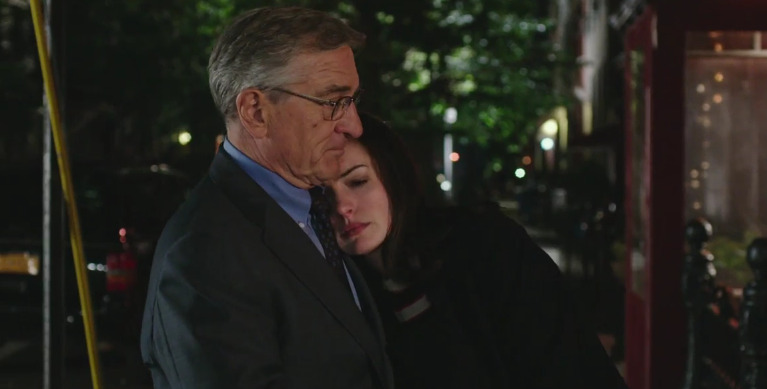 In what could have easily been a silly comedy about age difference and being old in a modern world, Nancy Meyers' latest effort The Intern actually looks like a surprising, charming and even touching tale of friendship when two people need it most.
A new trailer for The Intern has just popped up giving us a new look at the film which sees Robert De Niro playing a retired 70-year old widower trying to fill a hole in his life. And his latest attempt is taking an intern position at an online fashion site founded by Jules Ostin (Anne Hathaway). Watch The Intern trailer after the jump!
Here's the trailer from Warner Bros. Pictures:
From the looks of this trailer, this might not be all that bad. My only concern is that writer/director  Nancy Meyers has been known to craft movies that overstay their welcome a little bit, not unlike Judd Apatow. Movies like It's Complicated, The Holiday and Something's Gotta Give have good intentions and performances, but they end up being a little too long-winded in the end. Still, Meyers wrote Father of the Bride, which I maintain is one of the best movies of its kind, so I'm hopeful for something good.
At the very least, this looks to be a step up from the other comedic dramas De Niro has taken on in recent years, such as The Family, The Big Wedding and New Year's Eve.  Plus, it's nice to see Hathaway getting a little more lighthearted than previous efforts such as Interstellar and Les Miserables, both of which are great but exhausting in their own way emotionally. And they both seem to have some genuine chemistry between each other as unlikely friends who truly need each other at this stage in their lives
Ben Whittaker (Robert De Niro) is a 70-year-old widower who has discovered that retirement isn't all it's cracked up to be. Seizing an opportunity to get back in the game, he becomes a senior intern at an online fashion site, founded and run by Jules Ostin (Anne Hathaway).
Written and directed by Nancy Meyers, the dramedy stars Robert De Niro, Anne Hathaway, Rene Russo, Anders Holm, Adam Devine, Andrew Rannells, Linda Lavin, Christina Scherer, Celia Weston, JoJo Kushner, Zack Pearlman, Jason Orley and Nat Wolff.
If you missed the first trailer, you can still watch it over here. Otherwise, The Intern arrives on September 25th.