Tyrese Gibson Confirms Meeting With Warner Bros. About 'Green Lantern Corps'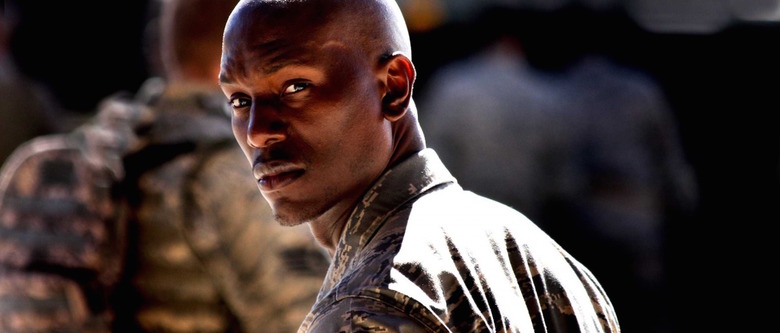 Grammy winner turned actor Tyrese Gibson already counts two big franchises in his career with Transformers and Fast and Furious, but early this year we learned the actor was campaigning hard to be the new Green Lantern for the developing DC Comics cinematic universe.
Gibson seemed to hint that a big announcement was coming at Comic-Con, but the only thing we learned in San Diego was that the reboot of the aforementioned DC Comics property was called Green Lantern Corps., essentially confirming the previous rumor that there would be two Green Lanterns taking the lead this time, almost in a buddy cop kind of scenario.
Now the actor has confirmed that he has met with Warner Bros. Pictures about playing Green Lantern, but that's about all he can say right now. Find out more about the potential of Tyrese Gibson playing Green Lantern below.
While we previously heard that Chris Pine was maybe up for one of the two lead Green Lantern roles recently, that doesn't count Tyrese Gibson out from playing the other role. But first, we'll let Gibson explain how he ended up seriously trying to get the role to begin with when he spoke to Collider while promoting the home video release of Furious 7 in Abu Dhabi:
"Well I was innocent from the beginning. I was at home eating a bowl of Lucky Charms in my drawers, my ugly feet were out, and I got about six direct messages on Instagram with photos of me as the Green Lantern. This particular fan who did this fan art said that there was a community of people that had been talking for like a month and a half about who they think would be the best Green Lantern and they all picked me. I said to them, 'I took the oath, and I am going to commit myself to this process of seeing what's possible.'"
So it sounds like when Gibson teased some kind of announcement, he may have just been keeping the hype and supporting going rather than teasing a real announcement. But the good news is that he has met with Warner Bros. Pictures, but now he's playing the waiting game:
"I've already had a couple of meetings at Warner Bros., so we'll see what happens. I do believe that there needs to be more black superheroes out there, but that's not even my motivation. I think I would be the best Green Lantern and based on my fans and supporters that spent around $6 billion in box office receipts, I feel like there's a fanbase of fans out there waiting to see me put on this green suit and do my thing. So I would love to confirm something today but I can't. We'll just keep following up."
Can't argue against the need for more black superheroes, but I'm not sure I agree with Gibson that he's the best choice for Green Lantern. Frankly, I'd rather see someone like David Oyelowo, Chiwetel Ejiofor or Omar Sy in the role, or even a younger Green Lantern like Tyler James Williams (The Walking Dead).
Plus, he's being a little over-zealous when it comes to referencing his "fans and supporters that spent around $6 billion in box office receipts." Just because Gibson starred in two multi-billion dollar franchises isn't solid evidence that he's the box office draw in those films.
Since Green Lantern Corps. isn't due until 2020, it seems like Warner Bros. has plenty of time to figure out who will put on the ring this time, but with the first part of Justice League due out in 2017, we'll likely need someone officially taking the oath sooner than later.
Who do you want to see join the Green Lantern Corps. in the DC Comics cinematic universe?