Watch 'Man Of Steel' Scenes With 'Batman V. Superman' Trailer's Metropolis Destruction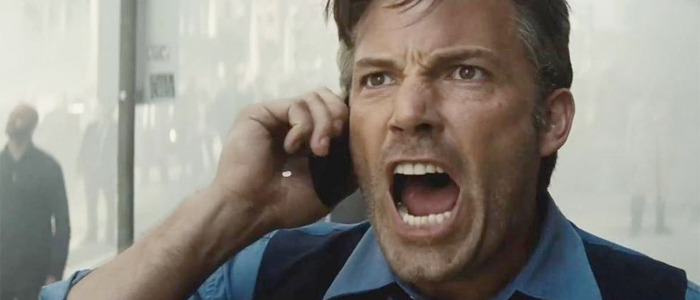 By now you've probably seen the Batman v. Superman: Dawn of Justice trailer that premiered at Comic-Con and went online shortly thereafter. Or maybe you've seen the slightly shorter theatrical edit of the trailer that was released last week. Either way, you've seen some of the destruction of Metropolis repeated as we now see part of the final battle from Man of Steel from the perspective of Ben Affleck as Bruce Wayne, watching as one of his buildings is destroyed.
Now a fan has edited together parts of the scene from Man of Steel with footage from the Batman v. Superman trailer to help paint a slightly more complete image of what we'll see unfold on the screen next spring. You might have seen a GIF floating around with a side-by-side comparison of the laser vision tearing apart the building, but this is a little different.
Watch the Man of Steel Batman v Superman scene mash-up after the jump!
Thanks to YouTube user Long Rangel (via Topless Robot) for putting this together:
Towards the end of the video, there are clearly some liberties taken with the footage by teasing the eventual face-off between Batman and Superman in the Warner Bros. release coming next March. But we can almost guarantee that Bruce Wayne isn't staring directly at Supes as he holds that little girl amidst the rubble of Metropolis and his Wayne Financial building.
Still, it's very cool to see how meticulously the action in the footage from the trailer matches up with the scene from Man of Steel. I'm definitely anxious to see how extensive the Metropolis destruction sequence plays out from Bruce Wayne's point of view, especially since that final battle in the movie seemed to last so long.
Fearing the actions of a god-like Super Hero left unchecked, Gotham City's own formidable, forceful vigilante takes on Metropolis's most revered, modern-day savior, while the world wrestles with what sort of hero it really needs. And with Batman and Superman at war with one another, a new threat quickly arises, putting mankind in greater danger than it's ever known before.
Batman v Superman: Dawn of Justice stars Henry Cavill in the role of Clark Kent/Superman, and Ben Affleck as Bruce Wayne/Batman. The film also stars Gal Gadot as Diana Prince/Wonder Woman, with Amy Adams, Laurence Fishburne and Diane Lane returning from Man of Steel, Jesse Eisenberg as Lex Luthor, Jeremy Irons as Alfred, and Holly Hunter in a role newly created for the film. Jason Momoa will also be making an appearance as Aquaman.
Directed by Zack Snyder, written by Chris Terrio, from a screenplay by David S. Goyer, the film is produced by Charles Roven and Deborah Snyder with Benjamin Melniker, Michael E. Uslan, Wesley Coller, David S. Goyer and Geoff Johns serving as executive producers.
Batman v. Superman: Dawn of Justice arrives on March 25th, 2016.