New 'Fantastic Four' TV Spot: The Superpowered Quartet Gets Locked Away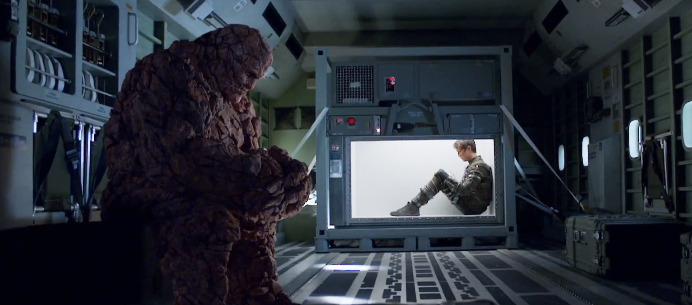 Superheroes always end up getting misunderstood, feared and taken to task by the government for the potential threat they pose to humanity. Superman has to go to court in Batman v. Superman: Dawn of Justice, The Avengers seem to be sidelined a bit in Captain America: Civil War, and now we know the Fantastic Four get locked away for a little bit.
A new TV spot for Josh Trank's comic book reboot has just surfaced online with some new footage from the film bringing Marvel's first family back to the big screen. There's a new shot of Dr. Doom, and a couple quick shots of the Fantastic Four displaying their new powers. Watch the new Fantastic Four TV spot after the jump!
The new TV spot comes hot on the heels of the final theatrical trailer for Fantastic Four, which actually didn't do much to get me more excited for the reboot than the initial teaser trailer did. The more footage we see, the more generic the movie looks. While the gritty, more serious approach is something new for Fantastic Four on the big screen, it just feels like it's trying a little too hard.
There have also been rumblings about director Josh Trank not being the easiest filmmaker to work with, which is why he ended up not taking on the next Star Wars Anthology movie for Disney. Some of it could be Hollywood hearsay and gossip, but if it's enough for him to lose a major project like a Star Wars spin-off, then it must be a pretty big deal for the studio.
But I would absolutely love to be proven wrong if the film turns out to be a home run when it arrives next month, especially if it means that 20th Century Fox somehow figures out how to make a Fantastic Four and X-Men crossover work, as has been rumored recently. Hopefully Miles Teller, Kate Mara, Jamie Bell and Michael B. Jordan make this reboot a franchise to be excited about in the future.
Fantastic Four drops into theaters August 7, 2015.
FANTASTIC FOUR, a contemporary re-imagining of Marvel's original and longest-running superhero team, centers on four young outsiders who teleport to an alternate and dangerous universe, which alters their physical form in shocking ways. Their lives irrevocably upended, the team must learn to harness their daunting new abilities and work together to save Earth from a former friend turned enemy.