John Boyega Reveals New Promo Photo From 'Star Wars: The Force Awakens'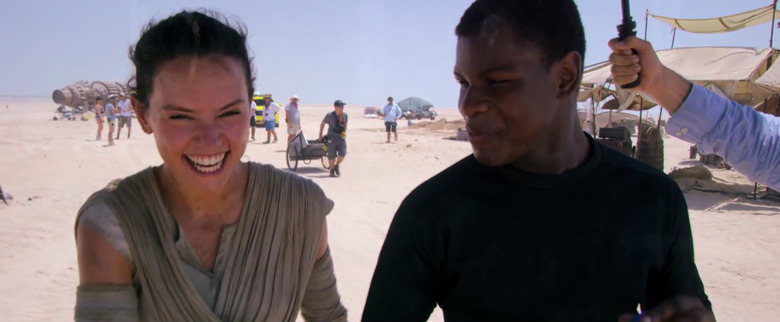 The hype around Star Wars: The Force Awakens has been more exciting than usual over the past week and a half, thanks to the Comic-Con panel that revealed an awesome new behind the scenes sizzle reel, not to mention that awesome surprise concert for the fan who were in Hall H for the presentation.
However, the Comic-Con panel also brought news that we wouldn't be getting a new trailer for The Force Awakens until the fall, likely around the same time all the merchandise starts hitting shelves on Force Friday. So in the meantime, we'll have to take whatever Star Wars scraps we can get, and thankfully a new promo image has arrived courtesy of John Boyega's official Instagram account. It's an image that features his character Finn and a familiar hero. See the new Force Awakens promo banner image after the jump!
Here's what John Boyega posted on his Instagram page:
As you can see, that's Finn with what appears to be a new Stormtrooper blaster (or maybe a different gun entirely) with our favorite walking carpet Chewbacca (still played by Peter Mayhew). Does this mean the two see some action side-by-side? Or is this just one of those promo images that slaps a bunch of characters together, regardless of their relationship with each other in the movie? We'll just have to wait and see.
The above image actually leaked a little while ago as part of a bigger banner that appeared in a Russian LEGO catalog, but unofficially. However, since Boyega posted this through his Instagram page four days ago and it hasn't been taken down, we're guessing Lucasfilm is fine with the image making the rounds. So if that's the case, here's the full image from the catalog:
As you can see (click to enlarge), it shows off Rey (Daisy Ridley), Kylo Ren (Adam Driver), Captain Phasma (Gwendoline Christie), a Flametrooper and the new TIE Fighters (which will get a huge toy on shelves soon enough). Not sure why they didn't feel the need to fit in Han Solo (Harrison Ford) or Poe Dameron (Oscar Isaac) into the image, but that's all right.
If you're still hungry for more Star Wars: The Force Awakens details, be sure to check out our breakdown of the behind the scenes sizzle reel from Comic-Con for some little tidbits you might have missed in the video. There wasn't really any new footage from the film, but the video still revealed a decent amount for observant fans. So that will have to hold us over until the next big Star Wars tease.