Hong Kong Action Star Donnie Yen Rumored For 'Star Wars: Episode VIII' Role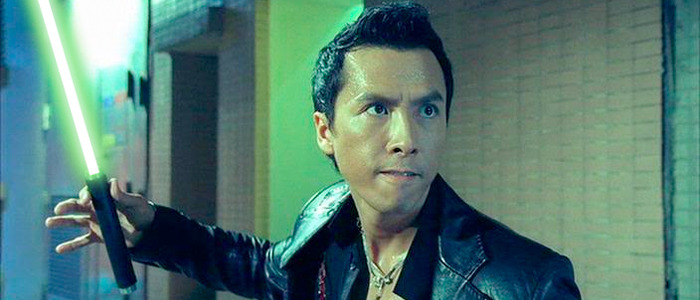 With production underway on Star Wars: Rogue One, you can bet we're going to start getting more news about the first Star Wars Anthology film very soon, maybe even with some official announcements at Comic-Con this week.
But in the meantime, a new rumor has surfaced about casting for the next installment of the new trilogy that kicks off with Star Wars: The Force Awakens this winter. Reportedly Hong Kong action star Donnie Yen (Ip Man) has landed a role in Star Wars: Episode VIII, continuing Hollywood's trend of inserting a famous Asian actor or actress into their biggest blockbusters for more international appeal at the box office.
However, considering the source and what we know about both Rogue One and the forthcoming Episode VIII, we're not sure if the details of this particular rumor are true. Find out more about Donnie Yen in Star Wars after the jump, but beware of potential spoilers!
First of all, the report comes from Hong Kong tabloid Apple Daily, which is already a big red flag. You can count on one hand the number of times a tabloid got any legitimate movie news correct. Second of all, the report says Yen will be playing a Jedi and will be shooting scenes with Harrison Ford as early as next month.
Since we don't definitively know the status of the Jedi in Star Wars: The Force Awakens, there's no way to know if it makes sense for Yen to play a Jedi in Episode VIII. However, logistically, hearing that Yen will be shooting scenes with Harrison Ford next month doesn't make any sense, mostly because Episode VIII isn't anywhere near beginning production yet.
But Twitch (who brought this tabloid report to our attention) does add that they had heard Star Wars: Rogue One director Gareth Edwards were looking at a number of Chinese actors for a role in the spin-off. And considering that film just started shooting last week, that would make more sense.
Other names in consideration for the role supposedly include Jet Li, Stephen Chow, Tony Leung, Chiu Wai, Daniel Wu, Wang Leehom and Chang Chen. Those are all similar action star names, but again, it wouldn't be hard make this rumor more interesting by having those names handy. Of course, there aren't supposed to be any Jedi in Star Wars: Rogue One, so if Yen or any of these other Asian stars do end up with a role, don't count on any of them wielding a lightsaber.
Keep in mind that this is nothing more than a rumor right now, and we can probably safely say that Yen won't have a role in Episode VIII as a Jedi. But there's a better chance that he might have a role in Star Wars: Rogue One. We'll have to wait and see what happens as the Star Wars universe continues to expand.