'Sharknado 3' Teaser: SyFy Schilling More Sharks And Shameless Cameos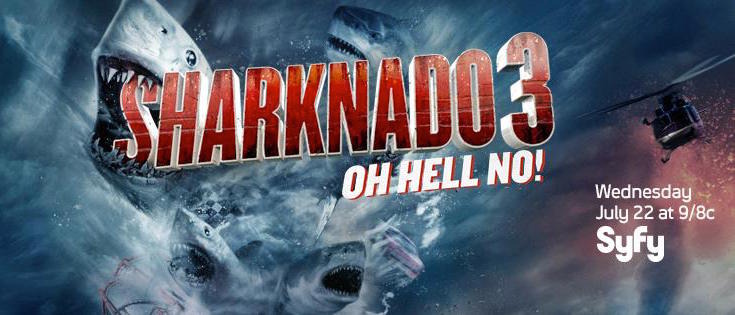 The original Sharknado was ironically entertaining, making for some absolutely ridiculous, intentionally terrible, B-movie fare. The success of the mind-numbing, inconceivable action horror film resulted in Sharknado: The Second One. And now we're in the midst of a trilogy coming together.
Since the weekend is usually reserved for making decisions that you'll immediately regret, you couldn't ask for a better time to watch the first teaser trailer for the unnecessary made-for-TV sequel Sharknado 3: Oh Hell No!, chock full of cameos from Hollywood's worst.
Check out the Sharknado 3 trailer after the jump!
The trailer is basically just a cavalcade of stupid cameos from quasi-celebrities, television personalities, terrible actors and fallen stars. There's no glimpse of a story in the trailer, but it's not as if that actually matters with a film like this anyway. All people care about is seeing familiar faces gets sliced and chomped by flying sharks, and that's exactly what they'll get.
If you're interested in who you'll see pop up in SyFy's latest masterpiece, the names in the trailer include but are not limited to perpetual lifeguard David Hasselhoff, Today Show co-hosts and drunks Kathie Lee Gifford and Hoda Kotb, American Pie starlet Tara Reid, magicians Penn & Teller, *NSYNC member Chris Kirkpatrick, Agent Cody Banks and Malcolm in the Middle's own Frankie Muniz and, of course, Shark Tank judge and billionaire Mark Cuban as the President of the United States of America. Jerry Springer, Michele Bachmann and Chris Jericho are supposed to pop up too, and there's probably plenty more nonsensical cameos in store as well.
Chris Regina, Senior Vice President of Program Strategy at Syfy is treating this like a real movie and says: "We wanted this third title to boldly go where no shark movie has gone before. Sharknado 3: Oh Hell No! embraces the larger-than-life irreverence that has made these movies so popular and entertaining."
While I understand the appeal of something purely stupid like this, doesn't it just feel like a massive waste of time? Sure, some people will get some laughs out of this, and those might seem invaluable. But there are so many better ways to get quality entertainment and laughter besides a terrible made-for-TV movie like this. Isn't Shark Week enough?
Sharknado 3: Oh Hell No! premieres Wednesday, July 22 at 9/8c on SyFy. And that means all SyFy channels around the world – 86 countries in all, including the UK, Australia and across Europe, Asia and Latin America. Heaven help us all.