Matthew Vaughn Is Currently Writing 'Kingsman 2'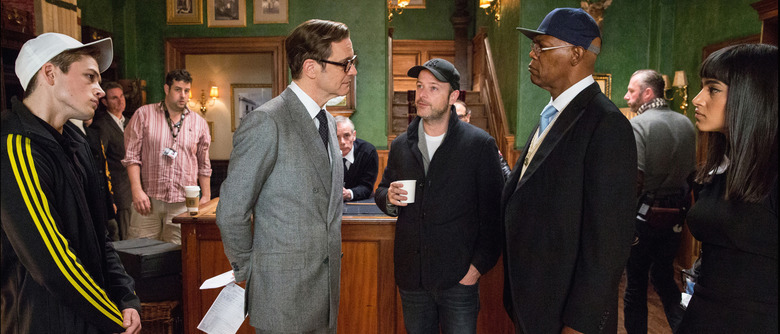 Kingsman: The Secret Service was a hit earlier this year for 20th Century Fox and, very quickly, rumors of a sequel began to bubble. Two people who were a little surprised at that were series co-creators Mark Millar and Matthew Vaughn, the latter of whom directed the film. Millar recently said while there was a desire to do it and talks about it, things weren't as concrete as the Internet made it seem. For example, he hadn't written a comic sequel and had no plans too. But that's seemingly been solved.
In a new interview, Vaughn revealed he's currently writing Kingsman 2 and if the script is deemed good enough, he'll make it. Below, read the Matthew Vaughn Kingsman 2 quote and find out how Millar envisions the sequel.
Vaughn was talking to Yahoo UK on the occasion of the film's recent release on Blu-ray when he talked about the sequel.
Matthew Vaughn Kingsman 2
Don't want to watch the video? Here's the quote:
Well, the good news is that I'm writing it next door at the moment. If I think I can get the script good enough, then we are making it. So again, stay tuned, but we are doing our damndest to make that happen.
That's awesome news but, anyone who saw the film knows a few minor problems arise by continuing the story.
SPOILERS FOR KINGSMAN FOLLOW.
Colin Firth's character dies in the film, leaving Taron Egerton's character all by himself. He saves the day but the charm of the first movie is the mentor/mentee relationship. In my recent interview with Mark Millar, he revealed that Firth wants to come back and would be a part of the sequel in some way. From there, he sees it going one of two ways.
Well it could go a couple of ways. I mean there are calls to get Colin [Firth] back and everything. Colin is very interested in doing it. But we haven't decided yet what the plan is. But, to me I think there's two possibilities here. You can either go on and make it Lethal Weapon, where you have Colin and Taron [Edgerton] as, you know, two buddies who essentially go out and solve international situations. Or you can make it Ben Kenobi and Luke Skywalker with Colin as the mentor, the teacher who died and the student becomes the master. And then he goes on to greatness.
Vaughn doesn't really even need a studio to approve a script. He finances his own films for the most part so, if they want to make it, it'll get made. So it sounds like this has a good chance of happening.
I really hope we get a Kingsman 2 and I'm totally fine if it's just an original screenplay. Then, maybe years down the road, Millar can do his comic version. What do you think?