VOTD: How Did 'Cheech And Chong's Up In Smoke' Change The Movies?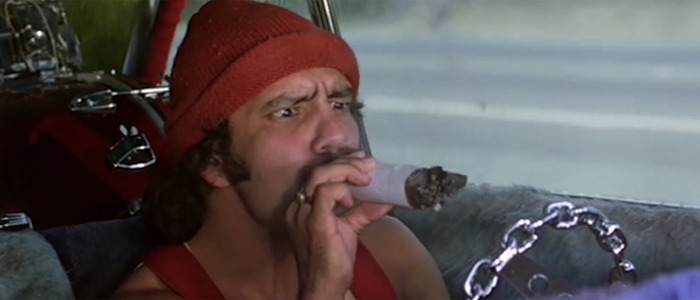 When you think of stoner comedies, the first thing that comes to mind isn't exactly innovation in the world of motion pictures. But back in 1978, Cheech and Chong's Up in Smoke was the first of its kind. Not only was this the first time two stoner characters were the "heroes" of a feature film comedy, but two Mexican characters leading a movie was also pretty rare.
Taking a look back at the creation of the film, Academy Originals has debuted a short featurette interviewing Cheech Marin and Tommy Chong about his they got this outrageous dope-a-thon off the ground and didn't really get paid to do it. Watch the video below!
When you hear about how this film came together above, it's a miracle that it was even made. There's no way that a movie this disorganized and directionless would ever be funded today without the help of something like Kickstarter. It's a collection of stoner bits and sketches basically thrown together into a story, and somehow it all works (especially if you're high).
It's cool to get the perspective of filmmakers like Jon Hurwitz and Hayden Schlossberg, the duo responsible for the modern-day version of Cheech & Chong, who we know better as Harold & Kumar (John Cho and Kal Penn). But unlike Cheech and Chong, the duo got stoned and then went looking for sustenance in Harold & Kumar Go to White Castle, as opposed to desperately looking for a joing to start a band.
Without Cheech and Chong, there would be no Harold and Kumar. Without Up in Smoke, we may never have gotten Pineapple Express, or half of the other weed-fueled comedies from Seth Rogen and Evan Goldberg. It may not be Citizen Kane, but the stoner comedy Up in Smoke really did change the movies forever.
We've heard that Cheech and Chong have been trying to get another adventure off the ground with Broken Lizard, the group behind Super Troopers and Beerfest. But since those guys are pretty busy with their crowd-funded Super Troopers 2, we're not sure if that project will ever come to fruition.