International 'Fantastic Four' Trailer: Miles Teller Can't Fix His Super-Powered Friends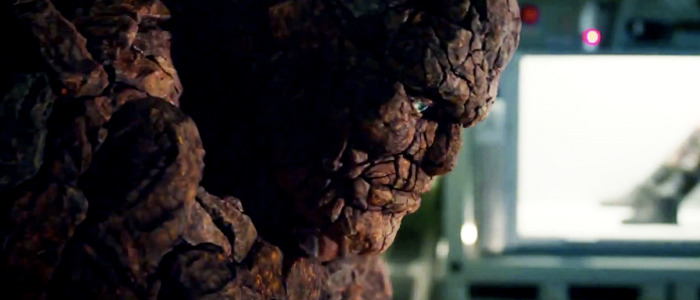 Even though director Josh Trank is no longer on board the second Star Wars Anthology film, which is reportedly about Boba Fett, we're still hoping for the best when it comes to his reboot of Fantastic Four at 20th Century Fox. So far the trailers have painted a pretty serious picture for the comic book property that isn't exactly known for being dark and gritty, so this will likely be very different from the previous big screen iteration of the super powered quartet.
Now a new international trailer has surfaced that's almost identical to the previous domestic trailer we saw, but there are some bits of new footage of our heroes showing off their powers (which we also saw shown off in a new commercial). Watch the international Fantastic Four trailer after the jump!
As you can see above, there are some new shots of Jamie Bell as The Thing, which seems to be the weakest link as far as visuals go in this flick. Sometimes he looks cross-eyed, other times he just looks like a cartoon henchman. Maybe The Thing isn't really something you can easily make look all that cool or heroic, and that could be relatively distracting.
It certainly seems like Dr. Storm (Reg E. Cathey), father of Johnny (Michael B. Jordan) and Sue (Kate Mara) is going to be an integral part of this new inter-dimensional origin story, complete with finding Reed Richards (Miles Teller) and bringing him onto this risky project. I'm very interested to see how the dynamic between the doctor and his team shifts once they have their powers. There's also probably a good chance that Doctor Doom (Toby Kebbell) will end up killing Dr. Storm, but that's pure speculation on my part.
Anyway, here's hoping that this comic reboot brings something fresh to the table. If it doesn't work out, we'll probably see yet another reboot of the property years from now, and then we'll be looking at another Amazing Spider-Man situation all over again. Of course, if that means the rights to Fantastic Four end up going back to Marvel Studios, I'm sure some fans wouldn't be upset about that.
We'll see how the movie turns out when it hits theaters on August 7th late this summer.
FANTASTIC FOUR, a contemporary re-imagining of Marvel's original and longest-running superhero team, centers on four young outsiders who teleport to an alternate and dangerous universe, which alters their physical form in shocking ways. Their lives irrevocably upended, the team must learn to harness their daunting new abilities and work together to save Earth from a former friend turned enemy.