Star Wars Bits: Joss Whedon Rumored For Episode IX, Star Wars Weekends, Battlefront Details & More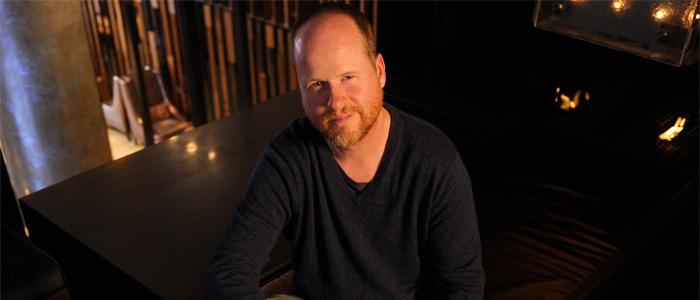 Rumors are swirling for who might direct Star Wars: Episode IX. Demands are building for who should replace Josh Trank as director of the second Star Wars Anthology film. And there are some new details about Star Wars Weekends, the new Star Wars Battlefront and more in this edition of Star Wars Bits.
Rumors are swirling about Joss Whedon directing Episode IX,
Fans are asking for Joe Johnston to direct the second Star Wars Anthology movie,
There's an interview with the Star Wars Rebels line producer and production manager,
Star Wars Weekends adding Rebel Hangar: A Star Wars Lounge Experience,
Details on Greg Grunberg's role in The Force Awakens,
When is Secret Cinema's screening of Empire Strikes Back?
Where is Poe Dameron from?
An interview with Star Wars LEGO master builder Erik Varszegi,
Star Wars Battlefront tease of planet Sullust and playable AT-ST,
Star Wars: The Force Awakens reference books coming in December,
And see a preview of the Darth Vader #5 comic.
Get Your Geek On (via Movie Pilot) has a rumor saying that Joss Whedon will be heading to the Star Wars universe to direct Episode IX. We know that Whedon is stepping way from Marvel following Avengers: Age of Ultron, but considering how making the film almost drove him mad, I can't imagine him taking on a project like Episode IX so quickly. But it would be quite the difficult job to pass up. Take this one with a grain of salt for now, as it's still pretty early for these rumors.
With Josh Trank no longer directing the second Star Wars Anthology film, everyone is wondering who will replace him. But fans already have their own idea as MakingStarWars reports there's a Twitter campaign with the hashtag #JoeJohnstonForStarWars being spread around. It's not exactly going viral, but considering it's supposed to be a Boba Fett origin story, and Captain America: The First Avenger director Joe Johnston created the character, the demand is not surprising or unreasonable.
Here's an interview with line producer Athena Portillo and production manager Liz Marshall about the first season of Star Wars Rebels and their first Star Wars Celebration experience:
Star Wars Weekends will get another cool attraction as Disney Parks Blog reveals something called Rebel Hangar: A Star Wars Lounge Experience will be coming to Disney parks at some point. The lounge is said to be a hangout of Rebel pilots, aliens and smugglers, probably not unlike the Mos Eisley cantina, but maybe with less scum and villainy.Greg Grunberg always has a cameo in whatever project J.J. Abrams is working on. And while is roles in the Star Trek films have been very low key, it sounds like his participation in Star Wars will be more significant. Details from StarWars7News.com say Grunberg shot at Pinewood for seven weeks, is signed for three movies, has facial hair, no prosthetics, and is not a special effects created character. And like almost every character with a line in the movie, he'll have an action figure.Secret Cinema still has a plan to bring The Empire Strikes Back to life, much like their celebration of Back to the Future coming to Los Angeles this year. In a report from THR, they reveal the 30th anniversary celebration of the Star Wars sequel is happening on June 4th and is being called "the most ambitious and dreamlike Secret Cinema experience the U.K. has ever seen." And if all goes well, Secret Cinema founder Fabien Riggall is hoping to bring it to Los Angeles, too.Oscar Isaac may have let a small detail slip about his character Poe Dameron. In an interview with ABC News, Isaac was asked whether Dameron had ties with Bail Organa, simply because the character was played by Jimmy Smits, and both actors are of Latin descent. Isaac said, "There's room in the Galaxy for more than one Latin family. What's actually very interesting is that Yavin ... at the end of the very first 'Star Wars' ... that last scene was shot in Guatemala and you know, I think that Poe Dameron is from that planet ... and that's a beautiful coincidence." So is Poe Dameron really from Yavin 4? We'll see.
Here's an interview with Star Wars LEGO master builder Erik Varszegi, talking about the process of building giant-sized LEGO models his projects that were on display at Star Wars Celebration.
Below are some new shots from Star Wars Battlefront showing the planet Sullust, one of the playable levels in the game. You can see more images behind the scenes of the Iceland location that inspired some of the video game designs of the planet over at ComingSoon.net.
In addition, EA confirmed on Twitter yesterday that the AT-ST will be a playable vehicle in Star Wars Battlefront.
Confirmed playable! #ATST #StarWarsBattlefront pic.twitter.com/Y4pRNxMEDp

— EA Star Wars (@EAStarWars) May 6, 2015
No confirmation on X-Wings, TIE Fighters or the Millennium Falcon yet, despite the fact that we see them zooming around in the trailer.
If you're looking to get all the information you can about the characters and vehicles of Star Wars: The Force Awakens, we'll know a lot more when Force Friday happens in September. However, a more detailed look at the new elements of Episode VII won't arrive until December. MakingStarWars reports that's when a couple new reference books, Star Wars: The Force Awakens Visual Guide and Star Wars: The Force Awakens Complete Cross Sections will hit shelves. There are some sticker books coming for the kids too.
And finally, here's a preview of the cover to the comic book Darth Vader #5 (see more at StarWars.com):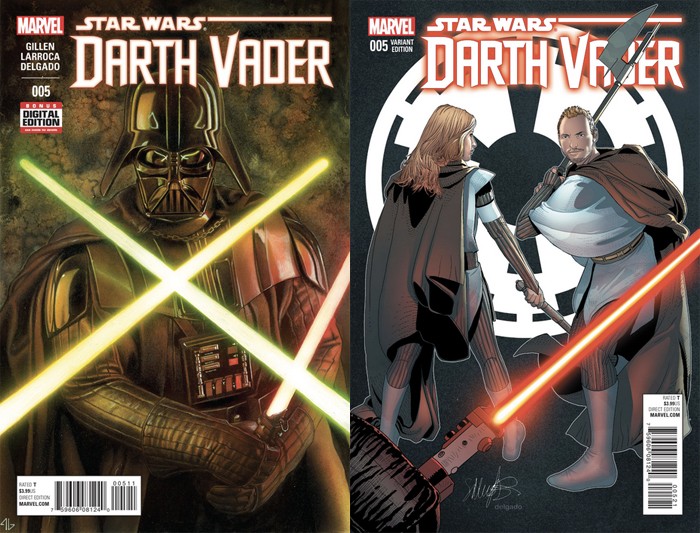 Darth Vader #5 hits shelves on May 13.