A 'Frozen' Sequel Is Coming, According To Idina Menzel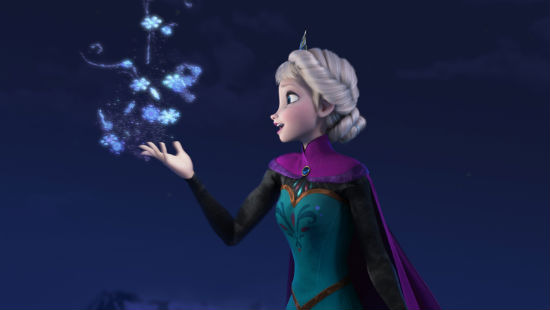 Disney has so far resisted the temptation to make a Frozen sequel — quite a feat, really, considering the icy adventure is the highest-grossing animated movie of all time. But it seems they may only be able to hold out for so long.
Idina Menzel, who voiced Elsa, has stated that a Frozen 2 is "in the works" and that she hopes to return. Read the Idina Menzel Frozen sequel comments after the jump.
Menzel touched upon the possibility of a Frozen 2 in a chat with The Telegraph. Asked what she could reveal about a potential Frozen movie sequel and a Frozen stage adaptation, Menzel responded, "That they're all in the works, ha ha!"
The interviewer then followed up by asking whether Menzel would reprise her role as Elsa for both. Her reply: "Ah, yeah sure ... Not the stage show – I don't know what will happen with that – but the movie hopefully. We'll see. I'm just going along for the ride."
Menzel isn't the only one who seems eager to return. Kristen Bell (Anna) has stated that "if the filmmakers write it, I will voice it. Happily." Jonathan Groff (Kristoff) has said a sequel "would be awesome." Josh Gad (Olaf) has joked about getting Olaf a love interest for the follow-up. And Santino Fontana (Hans) has teased a possible redemption arc in Frozen 2.
To be clear, though, none of these comments confirm that Frozen 2 is definitely happening. Disney has not made any formal announcements about a sequel. And "in the works" is a pretty vague phrase. It could mean Disney already has a set plan for Frozen 2, or it could just mean they're playing around with some ideas.
Moreover, even if Frozen 2 does move forward, it likely won't land in theaters for some time. Disney's already locked down release dates for two untitled animated movies in 2018, but their schedule looks pretty full before that.
Frozen has been such a smash success that Disney reportedly considers it to be one of its top five franchises. Even without a movie sequel, they've found plenty of other ways to expand the Frozen franchise. There are toys, theme park attractions, a book series, a Once Upon a Time plotline, and an ice show.Still to come are the stage musical mentioned above, and an animated short titled Frozen Fever. The latter lands in spring 2015 and will bring back Anna, Elsa, Kristoff, and Olaf for a storyline centered around Anna's birthday.