Mondo Creative Director Justin Ishmael Talks Posters For Ghostbusters, Back To The Future, Attack The Block, Dark Tower And More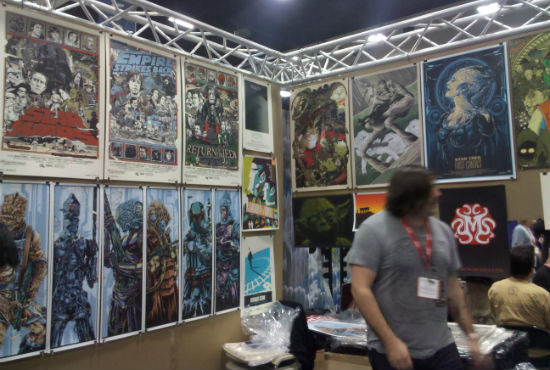 This article is full of bad news. FOR MY WALLET! *rimshot*
Collider recently sat down to do an in-depth, on camera interview with Justin Ishmael, the creative director of Mondo, the increasingly popular and influential poster boutique of the Alamo Drafthouse. In the interview, tons of information was released, including:
The reason why Mondo decided not to release a Ghostbusters poster in the past.
Either that hoped-for Ghostbusters poster, a Back to the Future or an Attack the Block poster is coming. And possibly two of three.
Drew Struzan is working hard on his Stephen King Dark Tower poster and they hope to release it at Comic-Con.
2012 should bring an expanded Mondo Mystery Movie series, possibly touring the country.
And more. We'll highlight a few of these and show you the videos after the jump.
First up, a huge thanks to Collider for this interview. They also give a nice backs tory on Mondo and its significance, which you also get a good idea from reading these two articles (and many more) I've done in the past.
To start, here's my favorite of the seven (!) videos Collider posted of the full interview. In it, Ishmael acknowledges fan desire to see prints from Ghostbusters, Back to the Future and Attack the Block and promises that one of the three is definitely happening (my guess: Attack the Block) and another is close to happening (my guess: Back to the Future). He also tells a story about how Mondo nearly had the license to Ghostbusters in the past and planned for their marquee artist, Tyler Stout, to do the dream poster. However, in the fine print, he read they were not allowed to use the character likenesses and did not agree. Check it out.
In some of the other videos, Ishmael discusses how his dream would be do a few blow out events based on the films of Ray Harryhausen, why the Mondo Mystery Movies are difficult to put together, how they plan to expand that event, some of the controversy surrounding Mondo's limited nature, a few teases for upcoming projects (such as new Director's Series') and more. Certainly head to Collider to watch those.
But I'm also going to post this clip, in which Ishmael is asked about an update on Drew Struzan's upcoming second poster for Mondo, Stephen King's The Dark Tower. He confirms it's being worked on, has to be approved by King, Ken Taylor will do the lettering and in a dream world, it'll first be available at Comic Con with Struzan on hand to sign. Can I line up now?
A third hat tip to Collider for a great interview packed with information for poster nuts like me.