That Three-Hour Porn Version Of 'Reservoir Dogs' Now Has A Trailer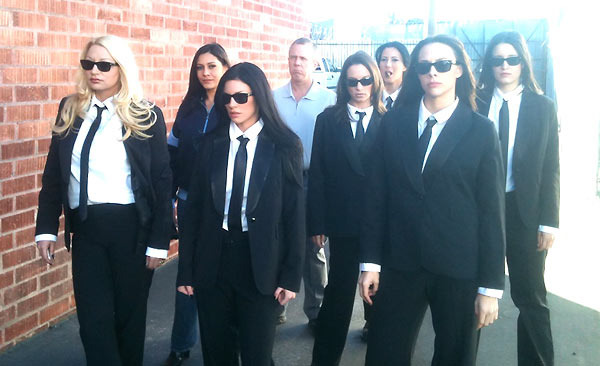 Late last year, we reported that adult film production company Exquisite Films was working on a three-hour porn version of Quentin Tarantino's Reservoir Dogs, to be titled Reservoir Dogs XXX. Well, now the trailer's here, and other than the fact that Steve Buscemi, etc. have now been replaced by famous porn actresses, it looks like a surprisingly careful recreation of the original. Check out the NSFW (due to bad language, not nudity or violence) trailer after the jump.Bleeding Cool sent Jeffrey Laub, a filmmaker who's taught a college course on Tarantino's Reservoir Dogs, to the check out the set of Reservoir Dogs XXX. According to his report, Reservoir Dogs XXX hews very closely to the source material:
When I visited the set of Reservoir Dogs XXX, I was allowed to see a copy of the script. After flipping through several pages, I realized that I was holding a copy of the original Reservoir Dogs script by Quentin Tarantino, with a 'Reservoir Dogs XXX' cover page stapled to it.
Apparently, director General Stone even goes so far as to reconstruct minor details of the original shots:
On his monitor, he would flip back and forth between his cameraman's shot and the footage from the original film, ensuring that he was faithfully recreating the original. Stone even went so far as to have Ms. White fold some loose change into her handkerchief, so that when she pulled it out of her pocket to wipe Ms. Orange's face, the change would fall to the ground, just like it did with Harvey Keitel.
Which is all very interesting, but still doesn't explain how anyone could make Reservoir Dogs sexy. As much as I liked the original Reservoir Dogs, "erotically charged" is not a phrase I would have chosen to describe it. The XXX trailer does nothing to clarify things, either. While I'm amused by the predictably terrible line readings — admit it, it'd be disappointing if a porn parody actually featured good acting — there's little about the commercial that suggests sexy times ahead. I can only assume that the filmmakers are saving the all interesting stuff for the actual film.
Reservoir Dogs XXX stars Chanel Preston, Andy San Dimas, Lizzy Borden, Kimberly Kane, and Raylene. It's three hours long, compared to the original's lean 100-minute runtime. The film will be released this April.