There Will Be A Three-Hour Porno Version Of 'Reservoir Dogs'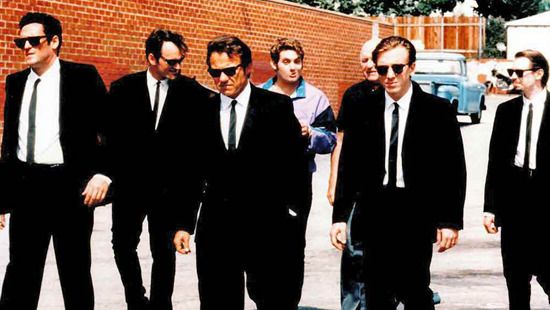 "Dick, dick, dick, dick, dick, dick, dick, dick, dick." "How many dicks is that?" "A lot."
Quentin Tarantino pretty much embedded the idea of a porn version of Reservoir Dogs in the dialog for the film's talky opening sequence. And while the idea of porn parodies of popular films is all but comically bankrupt, I'll admit there's some brief amusement value in thinking about the porn version of, for instance, the sequence where Mr. Orange is bleeding like a pig all over the back seat of Mr. White's car. (Or did Catherine Breillat already do that in Anatomy of Hell?)
Still: a porn Reservoir Dogs? Yawn. But then this became post-worthy when I saw that the running time of the film is planned for three hours. I guess that's what happens when you try to smash together a 99-minute dialogue-heavy story and a full-length porn film. If you want the dirty details, they're after the break.
AVN reports [link definitely not safe for work] that Exquisite Films, the same company that just did a porno Justice League film, is working on an "upscale, mature parody of Quentin Tarantino's cult classic." Director General Stone says,
As a huge Tarantino fan, I'm excited to have the opportunity to pay tribute with a XXX rendition. It's important to me to note that while we use the word parody due to the popularity of the term, Reservoir Dogs XXX will be more of an homage or retelling. We cast on acting ability first in order to create a real movie supported by the sex, not dependent on it. Each of the girls is amazing and will deliver a memorable performance.
That cast includes Chanel Preston as Ms. Orange, Andy San Dimas as Ms White, Lizzy Borden as Ms. Blonde, Kimberly Kane as Ms. Pink and Raylene as Nice Girl Eddie.
If porn parodies could manage to be even a bit less literal — I never thought I'd pine for the days of Flesh Gordon — I'd be more willing to give them some time. Show me the porn version of a film where the sex scenes follow the movie musical paradigm and tries to push forward some story or character content forward, and you might have something. But it's porn, which is as literal a format as you can find. It only really has one point. General Stone can say he's making "a real movie supported by the sex," but I don't believe it for a second.
Lingering question: in this context, what gets cut off, if not an ear? Not sure I want to know.