Columbia Is Definitely Rolling Forward With Ghost Rider 2; Daredevil And Silver Surfer Projects Confirmed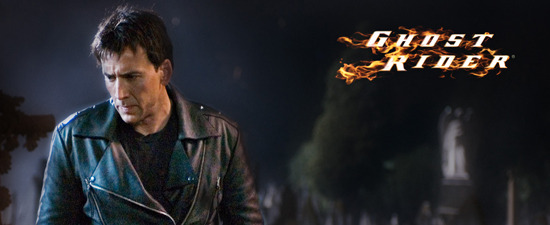 We've heard plenty of word over the last two years that a sequel to Columbia's Ghost Rider film starring Nicolas Cage (who would return for the sequel) could come roaring down the highway, and now there is confirmation that the studio is actually moving forward.
David Goyer is currently in talks to write the story and then oversee another writer's screenplay, but his spokesperson says that Goyer hasn't actually signed on at this point. Variety does report that the current plan is to base Ghost Rider 2 on a Goyer script written some time ago. Weird, since we've heard in the past that Columbia had already gone out to writers for the sequel. That's all the data we've got at this point, but revisit Nic Cage's comments from a couple of months ago to get an idea of what Ghost Rider 2 (or Ghost Rider v2.0, as it may be) might be like.
The Variety source article also mentions in passing that Fox is "quietly developing a new version of Daredevil and working on a Silver Surfer film." We've known both of those projects existed in theory, but this is the most recent word of forward motion. If I remember correctly (and do let me know if I'm wrong, as after the first film I stopped paying much attention to a Fox-developed Daredevil project) the last time we heard about this, another Daredevil flick was merely being 'considered'.
Would a Silver Surfer film essentially reboot the character? You'd think so, since Fox is already committing to rebooting the studio's take on the Fantastic Four, making the Surfer's cinematic intro moot. Rebooting the FF but continuing with the established Surfer would be some real Earth 2 sorta shit.
(Yeah, I know 'Earth 2' is DC. But Marvel's Earth-295 just doesn't have the same ring.)