/Filmcast Episode 6: Wanted And Wall-E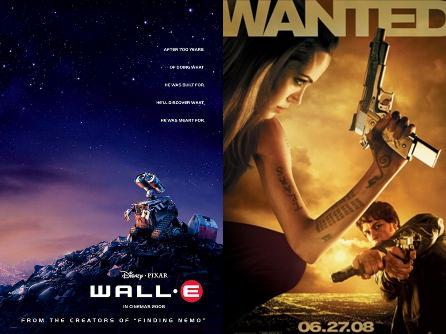 In this episode of the /Filmcast, Dave, Adam, and Devindra geek out about some brand new trailers, speculate on the future of The Office, and try to find some meaningful criticisms of Wall-E. Special Guests Kevin Buist from Filmcouch and Eric Vespe (AKA "Quint") from Aint it Cool News join us today. Have any questions/comments/suggestions? Want to advertise with us or sponsor us? Feel free to e-mail us at slashfilmcast@gmail.com.
Download or Play Now:
Subscribe:
---
Show Notes
Introduction
(00:24) Kevin Buist: The Filmcouch podcast, the Spout blog, Porcupine School
(00:46) Eric Vespe aka Quint: Contributing Editor for Aint it Cool News
What Have We Watched
David Chen: (02:15) Futurama: The Beast with a Billion Backs, It's Always Sunny in Philadelphia
Devindra: (05:35) Human Giant, The Visitor
Quint: (10:12) The Elephant Man, Hancock
Adam: (16:44) The Spiderwick Chronicles, [Shit Movie of the Week] 10,000 B.C.
News Discussion
(27:54) Trailer releases: RockNRolla and Quantum of Solace
Featured Review
(50:45) Wanted
(1:12:25) Wall-E
Credits
Our music comes from Point 22 courtesy of the Podsafe Network, and Brad Sucks
If you'd like advertise with us or sponsor us, please e-mail slashfilmcast@gmail.com